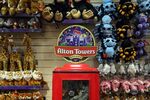 ValueAct Capital Management is off to the theme park. The U.S. activist has taken a 5.4 percent stake in Merlin Entertainments Plc, the British operator of Alton Towers and Legoland. This ride doesn't promise much in the way of quick thrills, and will require some patience.
The attraction for the activist is obvious: Merlin's visitor numbers are stagnating. The stock, which has fallen about 30 percent over the past year, trades at about 16 times estimated earnings, almost 20 percent below its average multiple over the past two years, according to data compiled by Bloomberg.
Don't expect the eye-catching activist fireworks, though. They're not the typical behavior of ValueAct, which also owns stakes in Rolls-Royce Holdings Plc, KKR & Co. and Morgan Stanley. The quick fixes at Merlin are hard to find.
Given Merlin's business is at risk from any events that could put a brake on tourist spending, there isn't much scope to load up on borrowings and return cash to shareholders. Merlin's net debt at the end of 2017 is expected to be about 2.4 times Ebitda. There isn't an obvious division to spin off to crystallize value.
One left-field possibility would be a merger with Whitbread Plc, which too has an activist investor, Sachem Head, on the register. Putting the two companies together -- as advocated by analysts at Cenkos Securities -- would create a British leisure powerhouse, combining Whitbread's largely domestic business with Merlin's much more international one. Whitbread, the owner of Premier Inn, could bolster Merlin's accommodation and pump in some Costa coffee outlets.
The drawback is Merlin already has its own accommodation, themed according to its attractions. And more cooperation could happen without any kind of deal. So the idea of a tie-up, which Merlin itself has dismissed, looks more like a wildcard than a blueprint for either side's agitators to make money.
Growing revenue looks a challenge. The increased threat of terrorism in the U.K. looks set to have a lasting toll on business, while the pound's slight rebound has deterred tourists from overseas. Steep entrance prices, which Berenberg analysts say may have contributed to Merlin's weak performance, look at odds with a consumer whose pocket is being squeezed by rising inflation and stagnant wages.
ValueAct says it's supportive of Merlin's management. It isn't calling for a board seat. When it invested in Rolls-Royce in 2015, the fund did take a seat, working with the company on its protracted turnaround.
That kind of supportive, behind-the-scenes role may be the most likely pattern at Merlin. Nick Varney, who has led the business since helping to start it in 1999, needs some back-up, and at some point succession will have to be addressed. ValueAct's holding looks less of a day trip and more like a long-term stay.
Before it's here, it's on the Bloomberg Terminal.
LEARN MORE