business
Brexit Bulletin: May Prepares a Secret Weapon
By
U.K. could withhold exit bill payments if EU pledges not kept

Plan emerges just as Davis argues for mutual trust after split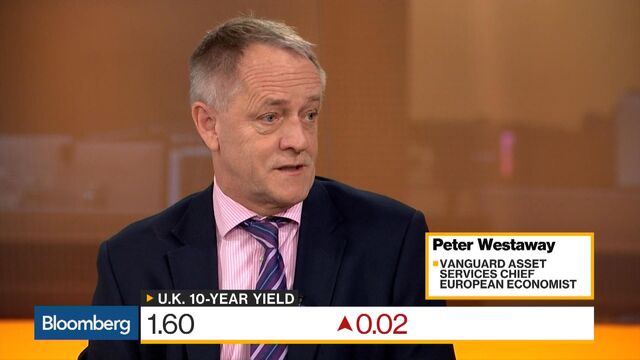 Sign up to receive the Brexit Bulletin in your inbox, and follow @Brexit on Twitter.
Theresa May's team is looking into a contingency plan to hold back billions of pounds in Brexit payments if the European Union refuses to give the U.K. the trade deal it wants, Tim Ross reports.
The plan, which is a fallback option rather than the preferred outcome, addresses the main risk posed by the way the Brexit talks are structured: Britain is due to leave the bloc – and agree to pay a hefty exit bill – before it signs a trade deal. The EU says that all Britain can hope for when it leaves is that the formal withdrawal agreement is accompanied by a political statement of intent on what the two sides hope to achieve in a future trade deal. If the EU reneges on those promises, the U.K. could hold back payments, people familiar with the matter said.
The proposal comes to light at a sensitive time, just as U.K. ministers are trying to build mutual trust with their EU counterparts and convince negotiators that the future relationship can be so close that regulators on either side of the Channel could delegate decisions to each other.
The U.K. has long argued that it wants a trade deal wrapped up before it leaves and May's spokesman yesterday continued to argue that the "basis of our trade deal" should be in place before the exit. (David Davis memorably said the trade deal would be signed a "nanosecond" after the U.K. left – now he says it will be completed during the transition period.) Some Brexit watchers reckon even the transition period won't be enough time to complete a trade negotiation, which in the case of Canada took seven years to produce a 1,600-page deal. The problem for the U.K. is that once the withdrawal agreement is agreed, including the infamous exit bill, Britain loses a lot of the leverage it has in the negotiation and becomes just another third country negotiating a trade deal.
But the divorce bill, worth about £40 billion ($56 billion), is due to be paid over many years. Speaking on condition of anonymity, three senior officials said the U.K. would have the option to halt payments if EU leaders tried to cut and run. One said the precise mechanism for paying the cash had yet to be agreed, leaving open the possibility of holding it back, while another said payments are due to be made for years to come, and could therefore be halted if necessary. Still, Britain's commitment to the exit bill will be legally binding. The EU is clear that the bill is for liabilities incurred over the years as a member and has nothing to do with future trade.
The fight over the bill isn't over. Read more here about what's on the tab.
Brexit Latest
Davis on Dumping | Brexit Secretary David Davis will try to reassure the EU that Brexit Britain won't try to undercut the bloc with a bonfire of regulation – as many across the Channel fear. He also wants regulators on both sides to trust one other enough to delegate decisions to each other, so that a car made and approved in the EU can still be sold in Britain and vice versa. Davis's speech is one in a series by senior cabinet ministers, culminating in an intervention from May next week. It's increasingly clear that the government wants to stay close to EU rules in plenty of areas – very close in some – and break free in others. Arch-Brexiter Trade Secretary Liam Fox will also say on Tuesday he doesn't want barriers to trade to be erected where now they are none.
Merkel Plays Nice | For the second time since Friday, Chancellor Angela Merkel had some kind words for Brexit Britain. Meeting her Dutch counterpart, Mark Rutte, she said: "Germany and the Netherlands are among the countries that want to maintain a very close partnership with the British – and we want that of course in the future as well." On Friday, Merkel offered May a glimmer of hope that a bespoke deal might be possible, saying that asking for a tailor-made deal doesn't necessarily amount to the cherry-picking that the European Commission is quick to condemn.
Of Budgets and Brexit | Running alongside the Brexit talks are negotiations about how the EU will fund its next budget cycle – without the U.K. The Dutch (who, by the way, want the U.K. to remain close to the EU) are lobbying for the budget to be slashed so rich countries don't have to make up the shortfall left by the U.K. Germany's Merkel said the situation is challenging. While the two discussions are completely separate, if the U.K. did stay close and keep making payments, the bloc's budget would be easier to balance.
Anti-Brexit Campaign | Best for Britain, a group funded by George Soros, is planning an advertising campaign over the next six weeks to make the case for maintaining close ties to the EU. With billboards and digital campaigns, they want to help influence upcoming votes in Parliament on whether the U.K. should stay in the customs union, the Financial Times reports.
Nuclear Glitch | The U.K. still lacks the replacement rules needed to fuel its nuclear reactors after Brexit, and there isn't much time to replicate vital aspects of the European Atomic Energy Community treaty before exit day, reports Rachel Morison. "Having a hiatus isn't an option," Electricite de France's Angela Hepworth said on Monday. "Having a time when the U.K. has no access to fuel isn't an option."
The City Will Survive | Swiss National Bank President Thomas Jordan reckons the City of London's position as a financial center won't be threatened by Brexit. "Maybe there will be some adjustments and some of the operations will move to the euro zone – to Frankfurt or Paris or somewhere else – but generally my assumption is that the City will remain a very important financial center."

On the Markets | The pound is getting more volatile as Brexit risks loom larger. Insuring against swings in sterling over the next month has become more expensive than insuring against volatility for a whole year, inverting the usual pattern, Anooja Debnath writes. "Brexit politics is expected to be more certain in the longer term than in the short term," said Neil Jones, Mizuho Bank's head of hedge-fund sales. While near-term doubts remain, the "market is leaning toward expecting an OK outcome" eventually, he said. 

Coming Up | Davis speaks in Vienna at 9:45 a.m., Environment Secretary Michael Gove speaks at 10:15 a.m., Trade Secretary Liam Fox speaks at 11:55 a.m., followed by Labour leader Jeremy Corbyn at 1:30 p.m. Foreign Secretary Boris Johnson then speaks in Parliament at 2:30 p.m. Theresa May gathers her core team for an away day on Thursday to hash out an agreement on what kind of trade deal the U.K. will seek from the EU. Technical talks continue in Brussels and Brexit attaches meet to discuss the state of play.
And Finally...
Damian Green, Theresa May's right-hand-man until he was sacked last year, has criticized colleagues for not accepting evidence on Brexit and warned of the dangers of "faith-based" policies. He also rejected "conspiracy theories" that there's a plot in Whitehall to thwart Brexit, and called for economic studies on the impact of Brexit to be published.
"There's a great problem of politicians who won't accept evidence. We can all argue about economic forecasts and none of them are 100% accurate, but you have to rely on them and if you reject evidence you don't like then you are likely to end up producing faith-based policies," he told the BBC.
Might this be the start of something now that Remain-voting Green is unshackled from the demands of Cabinet loyalty?

For more on Brexit follow Bloomberg on Twitter, Facebook and Instagram
Before it's here, it's on the Bloomberg Terminal.
LEARN MORE