markets
Meat Tycoon Wesley Batista Leaves Jail After Almost 6 Months
By and
Former CEO of JBS has to remain in Brazil, court orders

Ex-Chairman Joesley Batista will still remain in detention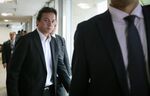 Wesley Batista, the former boss of Brazilian meatpacking giant JBS SA, walked free from jail after securing his first court victory since a probe into alleged insider trading began last year.
The Superior Justice Court in Brasilia decided on Tuesday by a three-to-two vote to release Batista, 47, after almost six months behind bars. He left the jail in Sao Paulo at 3 a.m. local time Wednesday, according to a spokesman for J&F Investimentos, the Batista family holding company.
He will be required to remain in the country and can't take any role in running his family's companies, including JBS. Joesley Batista, his brother and former JBS chairman, also had his release ordered by the court in connection with the insider-trading allegations, but he will remain in jail under a separate order for allegedly concealing information during previous negotiations over a plea bargain.
The court decision comes the same week it was revealed that JBS agreed to shut down its foreign exchange desk and increase the board's oversight over hedging operations. Well-timed currency trades helped boost JBS's profits in recent years. In 2017, some of those trades became the focus of prosecutors, who said JBS profited from a $2.8 billion bet against the Brazilian real in the weeks before a plea deal involving company executives was first reported.
Lower Risk
The latest measures taken by JBS will prevent Wesley Batista from directly ordering currency-derivative trades, Pierpaolo Bottini, a lawyer representing the Batista brothers, said Tuesday before the court in Brasilia voted on an injunction seeking the release of Joesley and Wesley pending the outcome of the insider-trading probe. The brothers deny any wrongdoing.
"Nine months after the act and six months after the jailing, the risk of recidivism has weakened, not enough to disappear, but enough to justify other measures that should suffice to protect the case and society," said Judge Rogerio Schietti, who was responsible for the case in the court.
The saga surrounding JBS, the world's largest meat company, has transfixed Brazilians and sent prices of its bonds and shares on a roller-coaster ride in the past year. In May, it was revealed that the brothers had reached an agreement with the authorities to stay out jail after after testifying about a long-running scheme to bribe politicians, news that sent Brazilian markets, and the real, reeling.
Shares Rebound
Months later, audio recordings were published in Brazil in which Wesley Batista could be heard questioning a JBS risk manager on financing limits for company operations that use derivatives to bet against the real. The conversation took place a few weeks before news on his plea bargain deal broke, sending the markets into turmoil.
With both controlling shareholders in jail, JBS appointed their father -- 84-year-old Jose Batista Sobrinho, as its new CEO. The company's shares and bonds eventually rebounded as JBS renegotiated its debt with banks and quickly sold assets. Meat operations in the U.S., which account for more than two-thirds of JBS's revenues, have benefited from rising demand both at home and abroad, while the cost of feeding livestock and poultry remains low.
JBS shares rose 3.6 percent to 10.14 reais at 11:20 a.m. in Sao Paulo. JBS's press office didn't respond to a request for comment on the court's decision.
— With assistance by Tatiana Freitas
(
Updates with timing of release in second paragraph, share price in 10th.
)
Before it's here, it's on the Bloomberg Terminal.
LEARN MORE