quicktake
Why the Global Banking Spotlight Is Shining on Latvia
By , , and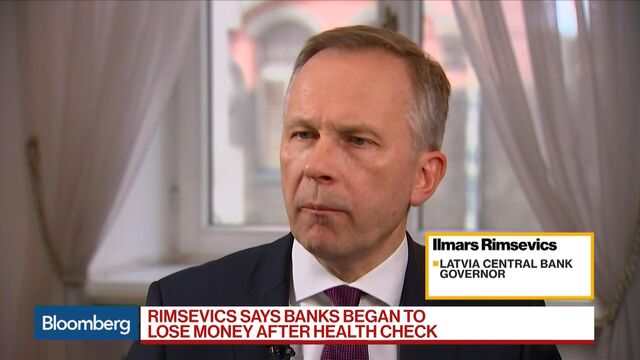 One of its biggest lenders is accused of laundering money for North Korea. Its central bank chief was detained by anti-corruption police. All in a matter of days. What's going on in Latvia? The Baltic nation of 2 million people — once a Soviet republic — is no stranger to financial scandal.
1. What does Latvia have to do with North Korea?
The U.S. Treasury Department alleged on Feb. 13 that Latvia's third-biggest lender, ABLV Bank AS, institutionalized money laundering as a "pillar" of its business. It's a magnet for organized crime, corruption and evasion of sanctions, including those related to North Korea's missile program, according to a Treasury statement. That prompted some of ABLV's clients to flee, and the European Central Bank to announce it will close the lender, having earlier frozen payments from it. ABLV denies the charges.
2. Why was the central bank governor detained?

In a separate case, Ilmars Rimsevics, who's also an ECB Governing Council member, was held over the weekend for 48 hours by Latvia's anti-graft bureau in a bribery investigation. The governor, who was released on bail, rejected allegations he asked for and received a bribe, though said he regretted not reporting the "hint" of a bribe in the past. Protected by the central bank's independence, he refuses to resign, despite being urged to do so by the country's political leaders. Rimsevics has also made wide-ranging allegations against several lenders, including Norvik Banka JSC, which has accused him of attempting to extort money from the bank. Rimsevics has also denied that allegation.
Read more: Latvian central banker hits back in deepening bribery scandal
3. How did we get here?

Latvian banks have long served as magnets for cash, and their notoriety picked up after communism collapsed. An ex-Soviet country with a large Russian-speaking minority, Latvia regained independence in 1991 and joined the European Union in 2004. While this helped develop Latvia's banking industry, the country also drew criticism from groups such as the Organization for Economic Cooperation and Development, which cited concerns about money-laundering risks and lax oversight. The inflow of foreign cash accelerated in 2012 as Cyprus's economic woes prompted wealthy depositors from the former Soviet Union to seek an alternative offshore home for their money. Latvia reversed the trend in 2015 as the nation was trying to join the OECD, handing out record fines and shutting down lenders over money laundering. Foreign deposits fell by a quarter last year.
4. Do Latvian banks have a bad reputation?
There have been several banking scandals in the country in the last couple of decades. Latvian banks were accused of handling some of the $1 billion stolen in 2015 from Moldova's financial system, helping shift as much as $20 billion in illicit cash from Russia between 2010 and 2014 and facilitating bribes by a Scandinavian telecommunications company. There have been casualties. Trasta Kommercbanka AS, implicated in the $20 billion scheme, was shut down in 2016, though it denied wrongdoing. Privatbank AS's Latvian unit was hit with a 2 million euro ($2.2 million) fine the same year for handling money from the Moldovan fraud. Last year, five Latvian banks agreed to fines for failing to gather sufficient information on transactions and beneficiaries in deals linked to North Korea.
5. What's the impact on Latvia?

Finance Minister Dana Reizniece-Ozola said the country's reputation is in crisis over both the central banker's detention and ABLV. Her ministry has changed its borrowing strategy and will refrain from refinancing operations in the near term, she said. Latvia is rated A3 by Moody's and A- by Standard and Poor's, the seventh-best grade at both agencies. SEB AB, the Swedish bank whose local unit is one of Latvia's biggest lenders, said the country's financial market remains "stable overall."
6. What has the ECB done?
Having initially asked Latvia to impose a moratorium on ABLV -- meaning the bank was temporarily barred from making payments on financial liabilities including deposits and bonds until further notice -- the ECB decided days later to close the lender altogether, determining that it was failing or likely to fail. ABLV criticized the step, saying it was taken because of "political considerations." Latvia's financial regulator said the closure wouldn't require any cash to be used from the country's deposit-insurance fund.
The Reference Shelf
— With assistance by Ott Ummelas, and Aaron Eglitis
Before it's here, it's on the Bloomberg Terminal.
LEARN MORE