politics
U.K. Nuclear Fuel Supply at Risk Without Euratom Fix, EDF Says
By
Time is tight to draw up new agreements before March Brexit

French nuclear giant may need to suspend work without solution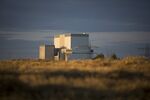 The U.K. still lacks the replacement rules needed to fuel its nuclear reactors after the country quits the European Union, according to an Electricite de France SA executive.
There isn't much time to replicate vital aspects of the European Atomic Energy Community treaty before Brexit in March 2019, Angela Hepworth, EDF's corporate policy and regulation director said at a conference on Monday in London.
"Having a hiatus isn't an option," she said. "Having a time when the U.K. has no access to fuel isn't an option."
Membership in Euratom has helped Britain become a leading manufacturer of reactor fuel and a key participant in EU-led nuclear research projects. Prime Minister Theresa May's government has drawn fire for the decision to leave Euratom. The organization governs everything from the transport of radioactive materials -- from reactor fuel to medical isotopes and commercial atomic technology.
Why Brexit's Going Nuclear Over Treaty Withdrawal: QuickTake Q&A
The government has to negotiate new treaties with third party countries which will each have their own ratification processes, according to Hepworth, who added it will be "tight" to get all the agreements in place by March 2019.
If key benefits under the Euratom treaty aren't preserved "we're not going to be able to move nuclear fuel or goods in and out of country," Hepworth said. Should EDF lose access to components needed to maintain stations, the company would need to halt operations until the parts could be sourced, she said.
The government published a nuclear safeguards bill in October that's seen as a fallback plan and that would to create its own domestic regime of checks and inspections for after Brexit.
Euratom-equivalent provisions are important for building on time EDF's 19.6 billion-pound ($26.2 billion) Hinkley Point C project in southwest England, Hepworth said. The company will need to expand its workforce by 67 percent to 5,000 jobs to build the station and needs to be able to access skilled employees from other European countries, she said.
— With assistance by Alex Morales
Before it's here, it's on the Bloomberg Terminal.
LEARN MORE