politics
U.K., EU to Kick Irish Riddle Down Road Again, Eurasia Says
By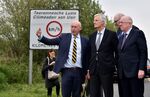 The U.K. and the European Union are close to agreeing a strategy to prevent the Irish question hindering the Brexit process moving forward next month, Eurasia Group said.
The two sides are working on giving legal effect to promises that U.K. Prime Minister Theresa May made in December, pledging that no hard border would emerge on the island of Ireland after Brexit, with the same rules applying north and south of the border if needed.
The withdrawal agreement that will pave the way for trade talks will suggest that the border could be dealt with in the context of the future relationship between the EU and U.K. or through bespoke solutions, Mujtaba Rahman, managing director at Eurasia Group in London, wrote in a note.
At the same time, a protocol sitting "alongside but outside the agreement" will set out rule alignment as the fallback should the EU decide other options won't avoid a hard border, he said.
This plan "will give both the EU and the U.K. more time, allowing them to revisit this compromise in light of the future relationship, " said Rahman. "The Irish question, it seems, will be kicked forward to another day."
While December's agreement was designed to prevent a breakdown in talks, serious questions still need to be resolved, according to three people familiar with the EU side of the negotiations. Different interpretations around the precise meaning of May's commitments are starting to crystallize, according to one European diplomat, and flash points could become clear as Brexit negotiations unfold.
Read more about the Irish threat to the Brexit process
In December, May also promised that there would be no border between Northern Ireland and mainland Britain -- suggesting that the whole of the U.K. would have to keep its laws aligned.
Before it's here, it's on the Bloomberg Terminal.
LEARN MORE