politics
Trump Blames FBI as Mueller Pushes Ahead
By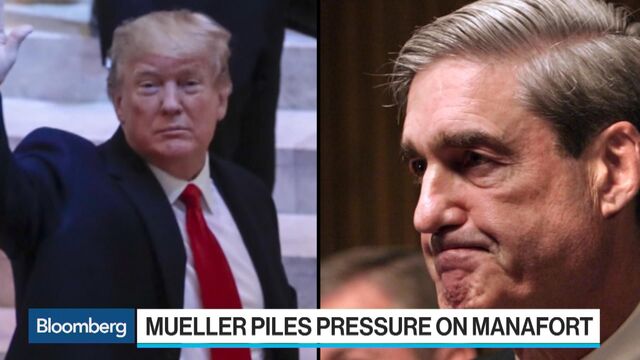 Want to receive this post in your inbox every morning? Sign up for the Balance of Power newsletter, and follow Bloomberg Politics on Twitter and Facebook for more.
Donald Trump has opened a new line of attack against the FBI amid signs that the next public steps in the investigation of his former campaign aides could be imminent.
The U.S. president accused the FBI in tweets of missing "all of the many signals sent out by the Florida school shooter" and of "spending too much time trying to prove Russian collusion with the Trump campaign."
The sentiment preceded an L.A. Times report late yesterday that former Trump campaign aide Rick Gates has agreed to plead guilty to fraud-related charges and cooperate with Special Counsel Robert Mueller. Mueller on Friday indicted 13 Russian nationals for a broad campaign to sway the 2016 election in Trump's favor.
Trump fired off 14 Twitter messages about the Russia investigation within 24 hours this weekend, including one that asserted "they are laughing their asses off in Moscow." 
But Trump's dismissals belie the latest warnings from U.S. intelligence officials about potential attempts to interfere in November's midterms and a resurgence of fake Twitter and Facebook accounts ahead of the March 4 election in Italy. 

Global Headlines
Clearer vision | Theresa May is convening a cabinet meeting this week to end the infighting over Brexit, with her vision for Britain's divorce from the European Union finally becoming clearer: stay close to the bloc in some areas and drop EU rules entirely for financial services and agriculture. Brussels has vowed to prevent that kind of cherry-picking, so the prime minister will be counting on German Chancellor Angela Merkel's recent tolerance for a tailor-made deal.

Imminent danger | Speeches and panel discussions at the Munich Security Conference over the weekend portrayed a world on the cusp of three potential conflagrations: in the Middle East, on the Korean peninsula and, in years to come, cyberspace. Add to that a growing concern the arms control agreements that kept the nuclear peace between the U.S. and Russia since the 1980s are at risk of unraveling. As Marc Champion reports the mood among the annual assembly of political leaders and generals was unusually sober.

Iran warning | Israel and Saudi Arabia delivered dire warnings at the Munich conference over Iran: Israeli Prime Minister Benjamin Netanyahu described Iranian aggression as "the greatest threat to our world," while Saudi Foreign Minister Adel Al Jubeir said Tehran needs to pay for its "aggressive behavior." Facing the risk of a wider conflict in a region destabilized by the war in Syria, Israel and Saudi Arabia, which have no diplomatic relations, have found a common enemy.

Building bridges | Australia, India, Japan and the U.S. are discussing a joint plan to develop infrastructure in the Asia-Pacific region, Australian Foreign Minister Julie Bishop said as Prime Minister Malcolm Turnbull heads to the White House this week. The talks suggest a possible new economic front in efforts to counter China's growing clout — specifically President Xi Jinping's $500 billion Belt and Road trade-and-infrastructure initiative.

Mexico election | The candidate polling second in Mexico's presidential campaign says he wouldn't allow Trump to treat his nation like a "doormat," wouldn't pay for the border wall Trump wants and maintains that U.S. demand for drugs is behind the surge of violence in his country. Ricardo Anaya's comments at a rally in Mexico City yesterday are another sign relations with Mexico's northern neighbor will weigh heavily in the elections in July.
And finally ... There was a brief skirmish, including a tackle, involving "the football" — the briefcase containing nuclear launch codes — during Trump's November visit to Beijing's Great Hall of the People, according to Axios. A U.S. Secret Service agent reportedly tackled a Chinese security official after the official grabbed White House Chief of Staff John Kelly, who is said to have intervened when the Chinese blocked a U.S. military aide carrying the case.

— With assistance by Stuart Biggs
Before it's here, it's on the Bloomberg Terminal.
LEARN MORE