Auctions
Rolex Daytona Madness Reigns at 2018's Most Anticipated Auction
A trio of big-deal Daytonas offers our first look into the thematic auction.
By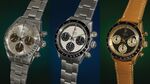 ↵
Originally published by Stephen Pulvirent on Hodinkee.
Just a few weeks after dropping the hammer on Paul Newman's own Paul Newman Daytona—making it the most expensive wristwatch ever sold at auction—Phillips announced it would be holding a thematic Daytona sale in spring 2018 called "Daytona Ultimatum." At the time, I gave them a bit of flak about the name and the impulse to continue fanning the flames of rare, high-end Daytona collecting, but there's no question is the most hotly anticipated sale of the upcoming season. Today, Phillips has released the first three lots from the sale and announced that Pucci Papaleo, the author of Ultimate Rolex Daytona, is one of the sale's curators.
Let's get the smaller news out of the way first: I'd have been shocked to find out that Pucci Papaleo wasn't involved in Daytona Ultimatum. His studio, Pucci Papaleo Editions, has already worked with Phillips on its catalogs for previous thematic sales, including Start-Stop-Reset and Heuer Parade, and that will continue with this sale as well. For a little behind-the-scenes look at Papaleo's studio and more on his involvement, check out the Phillips blog here.

There's been very little said so far about what the actual catalog is going to look like, how many watches will be included, what the star lots are going to be, etc. That's clearly intentional, and there's plenty of time for the details to come out before the sale takes place on May 12 in Geneva. Today Phillips has teased three lots though, offering our first taste of what might be coming in just a few months. Here are all the details we know right now.
'Pintabian' Rolex Daytona Reference 6265 With Brown Sub-Dials

At first glance, you might think this is a relatively standard Oyster Daytona. It's not. This example of the reference 6265 has a crazy sharp case and from the appearance of the undisturbed sticker on the caseback we can assume this watch is in true new-old-stock condition. That said, the dial still shows signs of aging, with the sub-dials showing a even, dark brown color.
The estimate on this watch is CHF 100,000 to 200,000.
'The John Player Special' Rolex Daytona Reference 6241 In Yellow Gold

This variant of the solid gold reference 6241 Daytona with the black and gold Paul Newman dial dates to 1968 and is extremely rare. For comparison,  a similar watch fetched nearly $600,000 at Christie's less than a year ago. If this isn't the top lot of the sale, it'll be up there.
The estimate on this watch is CHF 500,000 to 1,000,000.
'The Ricciardi Panda' Rolex Daytona Reference 6263

What we have here is a super early Mark I Paul Newman Daytona originally sold by Joyeria Ricciardi in the late 1960s. It's one of just two Oyster Paul Newmans known to be retailed by the Buenos Aires retailer, and in addition to the Ricciardi-branded packaging that comes with the watch there is also an additional inventory number on the underside of one of the lugs.
The estimate on this watch is CHF 400,000 to 800,000.
These three watches will be on view during Watches & Wonders Miami, from February 16-18. For more information about Daytona Ultimatum, visit Phillips online.
Hodinkee is the preeminent resource for modern and vintage wristwatch enthusiasts. Through in-depth reviews, live reports, and dynamic videos, Hodinkee is bringing watches to a 21st-century audience.
Before it's here, it's on the Bloomberg Terminal.
LEARN MORE