politics
Monti Says 'Luckily' Italian Campaign Promises Will Be Broken
By
Ex-premier speaks in interview with Bloomberg Television

Parties making campaign promises 'irresponsibly,' he says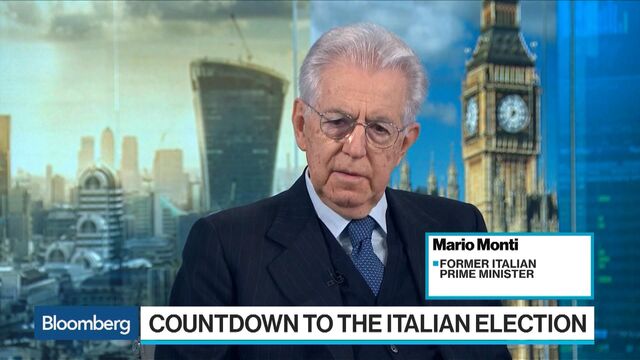 Former Prime Minister Mario Monti says he isn't worried about political parties making costly campaign promises "so liberally and so irresponsibly" ahead of Italy's March 4 election.
"I am not too concerned these promises will be honored. Luckily, they will not be honored," Monti said in an interview with Bloomberg Television's Francine Lacqua on Monday.
Whoever is elected will find a scapegoat once in power, he said. "The culprit will be Europe because European constraints will not allow them to fully deliver on their promises," Monti said.
He noted that the election rivals had "all calmed down," saying that "No party, either populist or not, has any longer in their program the idea of leaving the euro, calling a referendum to leave the euro."
The anti-establishment Five Star Movement has backtracked on its opposition to the single currency, saying it wants to change European Union treaties and that a referendum on ditching the euro was only "a last resort."
Before it's here, it's on the Bloomberg Terminal.
LEARN MORE