politics
Merkel Sets Up Potential Successor With Key Party Appointment
By and
Annegret Kramp-Karrenbauer to become CDU general secretary

German chancellor under pressure to organize succession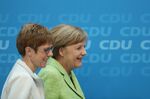 Chancellor Angela Merkel sent a strong signal in the debate over her preferred successor as German leader by appointing close ally Annegret Kramp-Karrenbauer as general secretary of her Christian Democratic Union party.
Merkel's unexpected move installs a like-minded woman whose name has been on the short list of possible chancellors in a post-Merkel Germany. It was also a slap to critics on the party's right flank, as Merkel signaled she intends to keep the CDU firmly in the political center.
"This is about strengthening the CDU at all of its roots, not only in one -- but in its full breadth," Merkel said at a joint news conference in Berlin with Kramp-Karrenbauer, who is giving up her post as the premier of the western state of Saarland.
Even as she acknowledged that she wanted a more prominent national role for her ally, Merkel pushed back against a reporter's query over her succession: "It's your privilege that you're always three steps ahead of the others."
Kramp-Karrenbauer, 55, supported Merkel's initial open-border policy during the 2015-2016 refugee crisis. AKK, as she's known in party circles, raised issues at the news conference that are dear to Merkel: upgrading Germany's digital economy and integrating migrants.
"Our aim is to remain the great people's party of the middle," the Saarland premier, who won the party's fifth-straight regional election there last March, said in Berlin. She added that Germany is experiencing "one of the most difficult phases" as the nation waits for Social Democrat members to vote on a new coalition with Merkel.
Merkel is under pressure after leading the CDU and its Bavarian Christian Social Union allies to their worst electoral result since 1949 last September. Critics on the party's right have called for the party to push more conservative policies as a way to win back voters who have turned to the hard-right Alternative for Germany.
CDU stalwarts have emerged to urge Merkel to prepare the party for new leadership, with Jens Spahn, a frequent Merkel critic who served as deputy finance minister under Wolfgang Schaeuble, seen as their flag bearer in any new cabinet.
Party Surprise
Merkel, who said potential ministerial posts will be announced on Sunday, sought to downplay any discord with 37-year-old Spahn, suggesting reports he may be left out of her next government are inaccurate.
"What is written is one thing; what I think could well be something else," Merkel said.
The caretaker chancellor is awaiting for the SPD to decide whether it will enter into its third coalition with her since 2005. Only an approval by the more than 460,000 members, many of whom oppose another alliance, will enable Merkel to be sworn in to her fourth term.
As general secretary, Kramp-Karrenbauer will manage the party and oversee election campaigns. Merkel took the job in 1998 after the CDU was ousted from government after 16 years in power under Helmut Kohl. Less than two years later, she assumed the party leadership.
Again downplaying the succession, Merkel said her own history was no indicator of what's to come. "History doesn't repeat itself; everything has its own development," she said.
A member of the CDU's executive committee, Kramp-Karrenbauer has governed Saarland -- a state of about a million people on the border with France -- since 2011. She scored a dramatic victory in March 2017, blunting a surge for the state SPD on the back of Martin Schulz's surprise candidacy for the chancellorship.
Schulz would go on to lose two more state ballots and the national election. He resigned as SPD chairman last week.
Before it's here, it's on the Bloomberg Terminal.
LEARN MORE