politics
Gupta Brother Says Dairy Farm Money Didn't Go to His Account
By and
Prosecuting authorities should pay his costs, says Atul Gupta

Gupta's court documents were signed and stamped in Dubai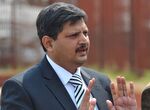 Atul Gupta, one of three brothers accused of swindling money from South African state funds, denied in court documents that cash meant for the development of a dairy farm in Free State province was transferred to his private bank accounts.
South Africa's National Prosecuting Authority should pay the costs of his application, said Gupta, who isn't in South Africa and had the documents stamped in Dubai on Feb. 8. Prosecutors have misled the court by wrongly alleging that 10 million rand ($855,000) was diverted to him, while the evidence behind the accusation is sketchy and previous court orders should be set aside, Gupta said in the documents.
The Guptas are friends of former President Jacob Zuma and have done business with his son Duduzane. One of the family's alleged scams involved leasing a dairy farm on state land and redistributing 220 million rand of government funds, earmarked for the development of the farm, into their accounts and those of various of their companies. Zuma and the Guptas have denied wrongdoing.
The Fugitive
Eight people accused in the dairy farm case appeared in court last week and were granted bail. Atul Gupta and his brothers weren't among those arrested. Ajay, one of the siblings, was seen leaving the country, bound for Dubai, on Feb. 6, and was spotted in India last week, according to the Times of India. South African police have declared him a fugitive from justice.
While police have discouraged the practice, Magda Wierzycka, head of Cape Town-based Sygnia Asset Management, has offered 500,000 rand of her personal money to anyone who has information that leads to locating Ajay before the end of this month.
The start of the crackdown on the Guptas comes as South Africa's leadership changes, with President Cyril Ramaphosa replacing Zuma last week. He's vowed to fight corruption and revive the flagging economy. Since becoming head of the ruling African National Congress in December, Ramaphosa has overseen the appointment of a new board at the state power utility Eskom Holdings SOC Ltd., which has been mired in graft allegations that have been linked to the Guptas.
"This is the year in which we turn the tide of corruption in our public institutions," Ramaphosa said in his address to the nation on Friday.
(
Updates with South Africa leadership changes from sixth paragraph.
)
Before it's here, it's on the Bloomberg Terminal.
LEARN MORE