business
Gallery of ECB Governors in Legal Woe Grows on Latvia Case
By and
Latvian Governor Rimsevics was held by anti-graft authorities

ECB policy makers across the bloc have had legal run-ins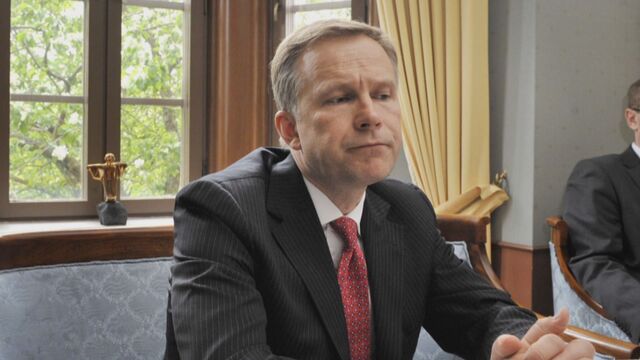 The detention of European Central Bank policy maker Ilmars Rimsevics is one of the most serious such cases to afflict the institution in its two-decade history, but it's not the first.

The 52-year-old head of the Latvian central bank, held by the country's anti-corruption bureau at the weekend and released on bail on Monday, joins a list of ECB officials who have had run-ins with the law. Some have been acquitted, one was found guilty, and most have alleged political persecution.
Read the latest on Latvia's central-bank scandal
Under European Union law, governments are prohibited from dismissing a central-bank governor unless there is serious misconduct. Rimsevics' lawyer says his client's arrest is "clearly illegal."
Yannis Stournaras, Bank of Greece governor
Greece's central-bank governor and former finance minister has fought a series of accusations in the wake of the nation's debt crisis. In the latest installment, he was cited as one of 10 politicians and ex-ministers for alleged corruption in a case involving Swiss drugmaker Novartis AG -- which he says was concocted to force him out. Lawmakers will vote this week on whether to create an investigative commission on the matter, or leave it with prosecutors.

Media reports last year alleged inaccuracies in Stournaras's property declarations and accused him of leaking conclusions of bank reviews. The governor has repeatedly denied wrongdoing and ECB President Mario Draghi called him a "trusted member" of the Governing Council in November, without commenting on specific reports. A Greek parliamentary committee decided this month not to probe Stournaras's wealth declaration for when he was finance minister.
Stournaras's wife has also been a target. In 2016, anti-graft prosecutors raided the offices of a Greek advertising company she runs -- on the day the governor was appointing new management for a state-owned lender.
Bostjan Jazbec, Bank of Slovenia governor

Jazbec's laptop was seized in a police raid of his office in July 2016. That was part of an investigation into alleged irregularities three years earlier when the government and the central bank spent 3.2 billion euros ($4 billion) to rescue the country's lenders and prevent Slovenia from seeking an international bailout.
The raid prompted the ECB to threaten legal action against the authorities, and Draghi also pushed back against legal attempts to audit the central bank. Jazbec has defended his actions and the EU's highest court ruled that Slovenia broke no laws when it wiped out about 600 million euros of bondholder debt as part of the bank rescue.
Ignazio Visco, Bank of Italy governor

Italy's central-bank chief was investigated for corruption and fraud in connection with the case of Banca Popolare di Spoleto SpA, a small lender that was put under special administration in 2013. The case against him was dropped in 2016.
The Bank of Italy's actions to shore up the country's financial system in the wake of the crisis have also been the object of a parliamentary investigation, which wrapped up early this year without charges.
Chrystalla Georghadji, Central Bank of Cyprus governor

The Cypriot government started proceedings in 2015 to dismiss Georghadji, alleging a conflict of interest for not declaring that her estranged husband represented an investor in a defunct bank that was suing the state and the central bank. The ECB warned the Cypriot president to respect central-bank independence.
Panicos Demetriades, Central Bank of Cyprus governor 2012-2014

In 2013, Demetriades came under pressure for an agreement he signed with a restructuring consultancy, and the country's top court was ordered to prepare a case to remove him. Draghi warned against any attempt to undermine the central bank's independence, but Demetriades unexpectedly resigned in April 2014 after months of criticism and death threats for his handling of the nation's banking crisis and a bailout that penalized depositors.
Antonio Fazio, Bank of Italy governor 1993-2005

Fazio, the man who led Italy's central bank during the set-up of the single European currency, was forced to resign over an investigation into his role on the takeover of Banca Antonveneta from a local lender. In 2011, he was sentenced to four years in jail, later reduced to 2 1/2 years.
He was acquitted in another case over alleged insider trading during the attempted takeover of Banca Nazionale del Lavoro.
Jean-Claude Trichet, ECB president 2003-2011

Before taking over as head of the ECB, Trichet was among nine people put on trial for their role in the Credit Lyonnais scandal in the early 1990s. After maintaining that he was deceived by the French bank, he was acquitted, allowing his delayed ascendancy to the presidency.
Wolfgang Duchatczek, Austrian deputy governor 2003-2013

While never a member of the ECB's Governing Council, Duchatczek was a key figure in an Austrian central-bank scandal. He was suspended and resigned after being indicted along with eight others for paying kickbacks for money-printing contracts. He was acquitted by an Austrian court in 2014.
Under his watch as chairman, managers of the central bank's money-printing unit had paid bribes to win contracts from the Azeri and Syrian national banks. While the managers were found guilty, the court didn't find evidence that Duchatczek knew about the bribes.
— With assistance by Boris Cerni, Milda Seputyte, Aaron Eglitis, Nikos Chrysoloras, Sotiris Nikas, and Boris Groendahl
(
Updates with Rimsevic's release on bail in second paragraph.
)
Before it's here, it's on the Bloomberg Terminal.
LEARN MORE