politics
Three Things Worrying the Global Security Establishment
By
Sober mood on Iran, North Korea at Munich security conference

Relief over 'domesticated' Trump leaves policy makers on edge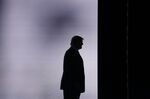 After a year of U.S. President Donald Trump, the trans-Atlantic security establishment seems unsure whether to be relieved that a major war hasn't begun on his watch or alarmed at the scale of emerging risks.
Speeches and panel discussions at the Munich Security Conference in Germany over the weekend portrayed a world on the cusp of three potential conflagrations: In the Middle East, on the Korean peninsula and, in years to come, cyberspace.
Add to that a growing concern that arms control agreements that kept the nuclear peace between the U.S. and Russia since the 1980s are at risk of unraveling, and the mood among the annual assembly of political leaders and generals was unusually sober.
For a look at why U.S.-Russian nuclear weapons pacts are at risk, click here.
"The situation is pretty grim,'' said Francois Heisbourg, chairman of the International Institute for Strategic Studies, a regular at the event. "All of the powder which has been accumulated by Trump in the last year is beginning to look very flammable.''
Israeli Prime Minister Benjamin Netanyahu warned on Sunday that his country would change its role as a bystander to the war in Syria if Iran's military and allied militias were allowed to "colonize'' that country.
"Israel will act not just against Iran's proxies that are attacking us, but against Iran itself," Netanyahu said.

Minutes earlier, a U.S. member of the Senate Foreign Relations Committee, James Risch, said that although the U.S. had no so-called "bloody nose'' plan for a demonstrative attack on North Korea, conflict "of biblical proportions" was possible, and no one in the hall should delude themselves otherwise.

In an otherwise reassuring speech, U.S. National Security Adviser H.R. McMaster defended plans to develop low-yield tactical nuclear missiles as a means to deter Russia, which is developing similar weapons. Both former NATO Secretary General Javier Solana and German Foreign Minister Sigmar Gabriel expressed alarm at the implications of such supposedly limited nuclear weapons for Europe.
"I think there is a question of whether we are at the end of an era of formal arms control,'' said Graham Allison, a Harvard professor who advised the Pentagon under Ronald Reagan. "The way to think about this is to ask why did people invent arms control?"
Emerging as the new area of conflict is a potential great-power arms race in areas such as cyber security and artificial intelligence. At Munich, a breakfast on technology overflowed with delegates. A NATO discussion down the hall was largely empty.
Read more: Social media giants react to calls for cyberwar code of conduct
Defense ministers and military strategists at the conference seemed less nervous about the threat of U.S. disruption than in 2017, said Angela Stent, a professor of government at Georgetown University and former U.S. National Intelligence Officer for Russia and Eurasia.
Last year, Trump had just been elected. The new administration's commitment to the North Atlantic Treaty Organization and the defense of Ukraine against Russia were in doubt. The far-right politician Marine Le Pen seemed as likely to become the next French president as Emmanuel Macron.
Even Russia was less of a focus this year, Andrei Kortunov, director general of the Russian International Affairs Council, said in an interview. And that despite the emergence, mid-conference, of U.S. Special Counsel Robert Mueller's indictment of 13 Russian nationals as well as organizations, detailing their alleged interference in the 2016 U.S. presidential election.
Read more: Trump's national security adviser says Russian meddling indisputable
Russia-U.S. relations are if anything worse than before Trump's election, while regional powers risk colliding in Syria and megaphone rhetoric over North Korea has entertained a nuclear holocaust. Even so, said Kortunov, these potential crises haven't spun out of control and the worst fears of Trump's critics haven't materialized as he has been "in some way domesticated."
"I think the situation over the last year has shown a degree of resilience that people didn't expect,'' Kortunov said.
— With assistance by Henry Meyer
Before it's here, it's on the Bloomberg Terminal.
LEARN MORE