politics
Italians Find Way Around Election Poll Ban With 'Horse Races'
By and
Election hopefuls given false names on blog to circumvent ban

Publishing of polls is barred two weeks ahead of March 4 vote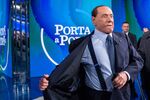 Italians have hit on a way around a ban on publishing polls in the two weeks before March 4 general elections: turn them into horse races.
Bloggers Andrea Mancia and Simone Bressan have begun writing up the results of fictitious "underground" races as a means of conveying the performance of various political parties and coalitions without falling foul of the law. Hence, avid politics watchers can check on favorites like Burlesque and his stable -- a not-so-thinly veiled reference to former Premier Silvio Berlusconi and his center-right coalition.
They can also learn more about the performance of jockeys like Louis le Subjonctif, a reference to Five Star Movement lead candidate Luigi Di Maio and his supposed difficulties in correctly using the subjunctive tense in Italian.
This isn't the first time the two bloggers have attempted to circumvent blackout legislation and they are not the only ones. Another blog, YouTrend.it, is known for publishing supposed polls with references to papal conclaves and names of imaginary cardinals to indicate the different candidates.
During the two-week blackout period, pollsters continue to conduct surveys which circulate among politicians, market analysts and others, but are barred from publishing their findings. Newspapers and other media are also banned from publishing any indications of voting intentions so as not to influence the election.
Before it's here, it's on the Bloomberg Terminal.
LEARN MORE