politics
May Takes on Corbyn With Warning to Universities Over Costs
By
Speech echoes her call for fairness after she became premier

But reboot of education policy already causing Tory divisions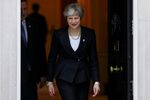 Theresa May set out to repair her image with young voters with a warning over the cost and quality of university courses, and an acknowledgment that students were being failed by a funding system that leaves them with crippling debts.
Echoing the tone of her first public address as prime minister in 2016, May called for a system that opens up "opportunity for everyone" and said the outdated snobbery that favors academic over technical qualifications must end.
"We need an education and training system which is more flexible and more diverse than it is today," May said in a speech in Derby on Monday to announce a one-year review into university and higher education. "We must act now to deliver that education system that truly works for everyone."
The reboot comes after a disastrous June election in which her Conservative Party lost its majority, with Labour leader Jeremy Corbyn's pledge to offer free adult education a major draw. University students frequently graduate in the U.K. with debts of 50,000 pounds ($70,000) or more.

But education politics have also become inextricably linked to the vote to leave the European Union. After the 2016 referendum, there were protests among young people carrying banners reading, "You Stole My Future," while Brexit also puts in jeopardy U.K. participation in exchange programs and EU funding for scientists and research in Britain. Even on the basic level of EU professors being able to continue working at U.K. universities, there is confusion.
May acknowledged the link in her speech.
"The Britain of the 2020s will be a Britain outside of the European Union, pursuing a new course in the world," May said. "We need education to be the key that unlocks the door to a better future."
But just as with Brexit, there were already signs of division within May's party on Sunday after Education Secretary Damian Hinds said there were various options to tackle costs to attend university, including shorter courses or charging more for math and science degrees than arts and humanities.
"What we need to look at is the different aspects of pricing -- the cost that it is to put on the course, the value that it is to the student and also the value to our society as a whole and to our economy for the future," Hinds said on the BBC's "The Andrew Marr Show."
That drew criticism from Hinds's own predecessor, Justine Greening.
The government must avoid a system in which poorer students choose a cheaper degree rather than one "that will really unlock their potential in future," Greening said on ITV's "Peston on Sunday."
May implied that the push for universities to vary prices will go ahead, though she also hinted that measures to boost social mobility would be considered, including the reintroduction of government grants for poorer students.
(
Updates with May speech in third paragraph.
)
Before it's here, it's on the Bloomberg Terminal.
LEARN MORE