markets
Iraq Bonds Defy Risks With Returns Four Times Better Than Peers
By and
Nation's sovereign bonds deliver quadruple gains of peers

'Iraq is not a broken country,' says Galloway Capital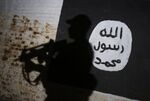 Iraq's political risk ranks among the highest in the world. A four-year war against the Islamic State left parts of entire cities in ruins. Corruption runs rampant. And its debt produces returns quadruple the average of peers.
Wait, what? Yes, we're talking about Iraq, the shattered nation that was invaded by a U.S.-led coalition 15 years ago and is seeking $88 billion to rebuild and recover. Its political stability remains vulnerable to terrorism, sectarian and ethnic tension, according to Fitch Ratings, which nevertheless affirmed its stable outlook in December.

For all that, Iraq's sovereign bonds have outperformed peers during the past year, buoyed by rising oil prices in a country that holds about 9 percent of the world's proven crude reserves. They've rewarded money managers such as Nathan Shor, who bought Iraq bonds in October.
"Iraq is not a broken country and few people know that," said Shor, who manages a $104 million emerging-market fixed-income fund at Galloway Capital Management Ltd. in Sao Paulo. Iraq, which sold bonds in 2006 and 2017, has international reserves of $47 billion, according to the International Monetary Fund.
Bonds due in 2028 not only paid their 5.8 percent coupon, but also provided an additional 11 percent gain with value appreciation. Iraq's sovereign bonds produced a total return of 17 percent in the past year. While Iraq is technically a frontier market, that's still almost four times the 4.3 percent average for emerging markets, according to a JPMorgan Chase & Co. index.
Before it's here, it's on the Bloomberg Terminal.
LEARN MORE