South Korea's Moon Sees Hard Road to Summit Even After Gestures
By
North's particiaption in Olympics helped ease tensions: Moon

Moon says 'growing consensus' favors U.S.-North Korea talks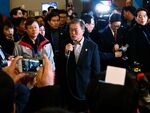 Achieving a summit between the two Koreas will be difficult even after positive gestures made by the north during the Winter Olympic Games, according to South Korean President Moon Jae-in.
During a visit on the eighth day of the Olympics, Moon reiterated his government's goal to turn the games into an event promoting peace and told reporters that North Korea's participation has helped to ease tensions.
The possibility of a South-North summit taking place "is like looking for scorched-rice water at a stone well," Moon said, referencing a Korean proverb similar to seeking hot water under ice.
Via his sister, who attended the opening ceremony, Kim Jong Un invited the South Korean leader to visit Pyongyang. Such a summit would be the first between the leaders of the two Koreas in 11 years.
There is "growing consensus" that the U.S. should take part in any talks with the North. "I hope the dialog that's currently taking place between South and North Korea will lead to U.S.-North Korea talks and then to denuclearization," said Moon.
U.S. President Donald Trump has ruled out direct talks with North Korea unless there's a plan to verify that Kim's nuclear program has been shut down.
Before it's here, it's on the Bloomberg Terminal.
LEARN MORE