Poland Stokes Holocaust Law Storm as Israeli Leader Lashes Out
By and
Netanyahu calls Polish premier's comments 'outrageous'

Morawiecki refers to 'Jewish perpetrators' at conference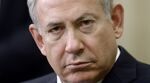 Israeli Prime Minister Benjamin Netanyahu expressed outrage about comments by his Polish counterpart who defended a Holocaust law by suggesting that Jews were among the perpetrators.
Prime Minister Mateusz Morawiecki was responding to an Israeli journalist's question at the Munich Security Conference about legislation that makes it a crime to suggest Poland was responsible for the Nazi-era genocide. At one point, the Polish premier referred to "Jewish perpetrators" in a list of non-Germans that committed World War II-era crimes.
"The Polish prime minister's remarks here in Munich are outrageous," Netanyahu, who was also attending the conference in the Bavarian capital, said in a video statement later Saturday. "There is a problem here of an inability to understand history and a lack of sensitivity to the tragedy of our people. I intend to speak with him forthwith."
The legislation passed in Warsaw this month has already drawn criticism from the U.S. and the European Union and outrage from Israel. Critics say the standard arises from a nationalist agenda that seeks to whitewash crimes committed during Poland's wartime occupation.
The journalist, Ronen Bergman, confronted Morawiecki with his personal story of a Jewish ancestor who was reported by Polish neighbors to the Nazi Gestapo. The Polish law would make it illegal to relate the story, he said.
Morawiecki, who has governed Poland with the right-wing nationalist Law & Justice party since December, sought to push back.
"It's extremely important to first understand that, of course, it's not going to be punishable, not going to be seen as criminal to say that there were Polish perpetrators – as there were Jewish perpetrators, as there were Russian perpetrators, as there were Ukrainian – not only German perpetrators," Morawiecki said.
Before it's here, it's on the Bloomberg Terminal.
LEARN MORE