markets
Pitting the Lira Against the Rand Is a Vogue Trade That's Rarely Paid Out
By and
'Playing lira-rand is like gambling': Toronto-Dominion Bank

JPM suggested trade six times in 2017, made profit only once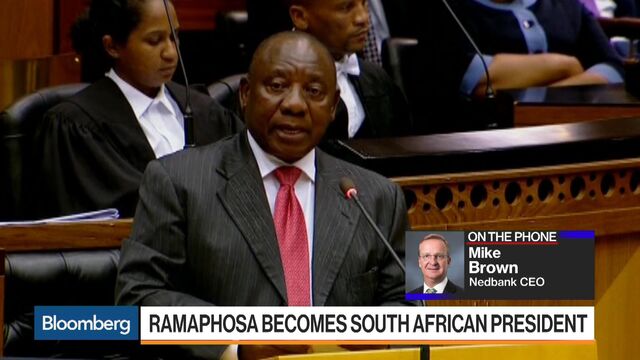 The idea was simple: Short the rand against the lira.
It was a trade that became popular in early to mid-2017 as South Africa's prospects dimmed and Turkey's looked as if they were improving. Bank of America Corp. and JPMorgan Chase & Co. were among the Wall Street banks that recommended it to their clients.
And for a while, it worked, especially after former South African President Jacob Zuma fired Pravin Gordhan, his much-respected finance minister, in March. Until, that is, a turnaround in South African politics -- triggered by Cyril Ramaphosa's election as head of the ruling African National Congress late last year -- sent the rand soaring, and concerns over Turkey's widening current-account deficit and worsening international relations pushed the lira the other way.
"A lot of investors weren't convinced Ramaphosa would win, plus the lira had been beaten up" in late 2016, said Kevin Daly, a money manager in London with Aberdeen Standard Investments, which made a small loss on the trade. "So it looked OK. Clearly, it was not a good one in the end."

Daly doesn't expect the trade to become enticing again anytime soon because investors are looking at South Africa through a "different lens" after Ramaphosa replaced Zuma as president on Thursday. Turkey, he said, still looks vulnerable.
"We continue to expect a divergence between the lira and the rand, with the latter being favored due to the positive reform narrative, dis-inflationary pressures, and potential for further portfolio inflows," said Phoenix Kalen, a director of emerging-markets strategy at Societe Generale SA in London. Turkey's diplomatic tensions, inflation of more than 10 percent and "lack of monetary-policy credibility" all mean there's a risk of "notable currency weakness," she said.
Record High
Societe Generale forecasts that the rand will strengthen 17 percent to 2.65 per lira by the end of the year, from today's 3.11, which is already close to a record high for the South African currency, according to data compiled by Bloomberg going back to 1980.
In April, JPMorgan recommended going long on the lira against the rand when the exchange rate was 3.72. It closed the trade a month later after it lost about 3 percent. In all, the New York-based bank suggested the idea to clients six times last year, but it only made a profit once.
Bank of America recommended buying the lira against the rand last month at 3.28 with a target of 3.5 and a stop-loss -- or point at which investors should end a trade that's not made a profit -- of 3.15. In October, it closed the same trade when the rate was 3.76 per lira, after it had targeted the rand weakening to 4.2.
"I don't trust the lira-rand pair, though I know it's very much in vogue in the traders' community for a reason I just can't understand," said Cristian Maggio, the head of emerging-markets research at Toronto-Dominion Bank.
Rather than making specific bets on how individual emerging currencies will diverge from each other, using the dollar is much easier, because you can take a view on developing nations as a whole, since their currencies tend to be partially correlated, he said.
"Playing lira-rand is like gambling," Maggio said.
(
Updates lira-rand exchange rate in seventh paragraph.
)
Before it's here, it's on the Bloomberg Terminal.
LEARN MORE