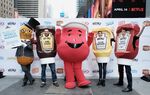 For Kraft Heinz Co., having Warren Buffett and 3G Capital in its corner isn't doing much to help its stock price or takeover ambitions.
The shares are trading at their lowest level since Buffett's Berkshire Hathaway Inc. and the Brazilian private equity firm merged the two food companies in 2015. On Friday, Kraft Heinz reported yet another period of weak sales, particularly in the U.S., its main market, which will hurt managers' efforts to shed an image of a cutthroat place focused mainly on cost reductions that boost the bottom line rather than growing the business more organically. CEO Bernardo Hees began the earnings statement with a mea culpa that the results "did not reflect our progress or potential."
In an odd move to perhaps try to circumvent the disappointing fourth-quarter performance, Kraft Heinz unexpectedly put out a presentation Thursday evening with more than 70 slides narrated by its leadership team about the progress it has made since the merger and how "laser-focused" it is -- though lacking much detail. In fact, it felt as if the presentation's true intended audience was prospective takeover candidates that need swaying, not necessarily existing investors. The stock was down about 5 percent at 10 a.m. on Friday. 
The consensus opinion is that Kraft Heinz probably needs to do a deal to show any meaningful growth in the near future, but management is clearly still struggling to find large companies willing to sell to it after Unilever snubbed an approach that leaked to the press early last year, leaving some egg on the faces of Buffett and 3G. While Buffett is the biggest Kraft Heinz shareholder and someone who usually gets preferential treatment in deals, other consumer-products companies simply may not be convinced of the sustainability or superiority of Kraft Heinz's strategy or aren't ready to have their longstanding operations and iconic brands gutted by a private equity firm. Plus, is a costly megamerger for the sake of a temporary sales jolt even justified?
Even so, it's interesting to see short-sellers unencumbered by Buffett's presence in Kraft Heinz and the risk that it does soon announce a transaction. (Thursday's presentation mentioned the industrywide pressure for further consolidation and that Kraft Heinz will have a role.) I wrote earlier this week about the trouble of being on the other side of a Buffett bet: Teva Pharmaceutical Industries Ltd. was, by all means, a quintessential short-selling candidate, but its discounted valuation also apparently made it attractive to Berkshire, which announced a sizable stake this week and created a painful short squeeze. 
Short interest in Kraft Heinz amounts to a whopping $1.3 billion, which is already above last year's average. It's likely "a reflection of traders shorting the sector," said Ihor Dusaniwsky, head of predictive analytics for S3 Partners, which gathers the data. "Kraft Heinz is one of the big dogs, therefore it gets a lot of the proportional short interest." Still, Kraft Heinz's results on Friday affirmed this play. 
The company noted that it has "anchor shareholders" in Berkshire and 3G, shutting down any speculation that Buffett might be looking to exit. His annual letter to shareholders comes out next weekend -- last year's notably made no mention of his private equity partner.
Both Kraft Heinz's and Buffett's inability to get deals done lately is a testament to the increasingly competitive M&A environment and the frothy valuations that accompany it. It also shows how strong the headwinds are against consumer-products giants that not even the presence of the famous investor and seasoned buyout shop is easing investors' concerns. And certainly a last-minute PR stunt the night before earnings wasn't going to do the trick. 
Before it's here, it's on the Bloomberg Terminal.
LEARN MORE