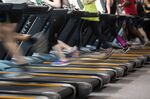 New Year resolutions to get fit and lose weight helped rescue retail sales last month, according to the Office for National Statistics, as gym bunnies rushed out to buy new sportswear and equipment.
But it seems other January perennials, such as Christmas credit card bills landing on the doormat and a spending diet after overindulging during the holidays, had a bigger impact on shopper behavior. Britain's store chains should brace themselves for the New Year consumer freeze extending into the rest of the year.
Retail sales, excluding automotive fuel, climbed 1.5 percent in January on a year-on-year basis, undershooting economist forecasts for 2.4 percent growth. On a monthly basis, they eked out an increase of just 0.1 percent, compared with expectations of a 0.6 percent gain.
With inflation running at 3 percent and wages growing at just 2.5 percent, Brits are feeling the squeeze.
Retailers say the market's tough, with many shoppers going AWOL since the holiday. That's been shown in recent profit warnings from Carpetright Plc and Laura Ashley Holdings Plc. Female shoppers, in particular, aren't spending on spring fashions. The recent freezing weather won't have helped, with the brightly-colored lightweight clothes in the shops at odds with plunging temperatures outside.
Big-ticket items are suffering too as people worry about their own spending power and what the post-Brexit economy might look like. New car sales dropped 6.3 percent in January, posting a 10th consecutive decline.
There's also evidence of Britons starting to struggle a bit to pay credit card bills, despite the Bank of England saying it's relaxed about people's ability to meet their obligations. Payments overdue by a month rose in November and December, reaching a seven-month high.
In fairness, January and February are often difficult because of the consumer's comedown after Christmas. But the next couple of months will show whether this year follows the usual seasonal pattern, or is the prelude to a more entrenched pullback. With traders pricing the odds of the BOE raising interest rates when it meets in May at more than 60 percent, Brits seem unlikely to rediscover their love of shopping any time soon.
Before it's here, it's on the Bloomberg Terminal.
LEARN MORE