`Off to the Races' for South Africa Assets as Ramaphosa Steps In
By , , and
Stocks gain most since 2014 after Zuma resigns as president

Ramaphosa has pledged to rejuvenate economy and root out graft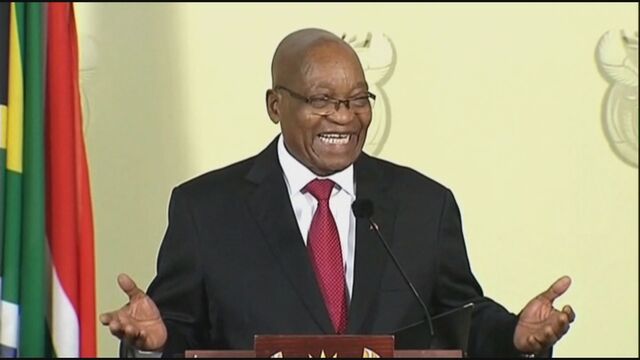 Stocks surged the most since December 2014, the rand rallied to a three-year high and bond yields fell to a level last seen more than two years ago as market favorite Cyril Ramaphosa took the helm of Africa's most industrialized economy.
"This is the Cyril bonus," said Wayne McCurrie, the head of portfolio management at Ashburton Investments Management Co. in Johannesburg. "Happy days are here again. So it's just off to the races."
Ramaphosa was officially elected president in the 400-seat National Assembly after Jacob Zuma announced his resignation Wednesday night. He is set to be sworn in as South Africa's fifth post-apartheid president later on Thursday by Chief Justice Mogoeng Mogoeng and is due to deliver his first state-of-the-nation address on Friday.
Growth has averaged just 1.6 percent a year since Zuma took office in 2009, undermined partly by a series of policy missteps and inappropriate appointments that rocked investor and business confidence. Ramaphosa has pledged to restore fiscal responsibility and root out corruption and mismanagement.

The benchmark FTSE/JSE Africa All Share Index was up 3.7 percent by 3:41 p.m. in Johannesburg. Lenders including Standard Bank Group Ltd., FirstRand Ltd. and Nedbank Group Ltd. all climbed to all-time highs as the sector index gained as much as 7.2 percent. Other South Africa Inc. stocks -- those that benefit from growth in the local economy -- also surged, with the household-goods gauge leaping as much as 15.2 percent.
The rand, already the best-performing major currency over the past three months, extended its run, gaining 0.4 percent to 11.6689 per dollar, heading for its strongest closing level since February 2015. Yields on benchmark government rand notes due 2026 fell 13 basis points to 8.26 percent, while those on 10-year dollar bonds shaved off seven basis points to 5.11 percent.

Credit risk is falling too, with the cost of insuring the country's debt against default for five years using credit-default swaps dropping three basis points to 154, lower than those of Brazil and Turkey.
There are risks ahead, according to Adam Cole, the chief currency strategist at RBC Europe Ltd. On the downside, these include the budget presentation next week, which would have to convince investors and rating companies that the new leadership is willing and able to tackle economic challenges. On the positive side, there will probably be a review of the controversial mining regulations that have stymied investment in the sector, he said.
An index of mining stocks advanced as much as 3.9 percent.
"Now Zuma's behind us, the market's clearly going to be looking forward," said Julian Rimmer, an emerging-markets trader at Investec Bank Plc in London. "International investors have generally been underweight South Africa for several years. I think they will all be scrambling to increase those weights."
Read what other analysts are saying about South African markets
Here are some of today's biggest share moves:
Naspers Ltd., the biggest company listed on the Johannesburg Stock Exchange, climbed 6.8 percent
Discovery Ltd. jumped 9 percent
Imperial Holdings Ltd. gained 10 percent
BHP Billiton Plc rose 3.6 percent
FirstRand Ltd. advanced 5 percent, and Standard Bank Group Ltd. 5.5 percent
— With assistance by Neo Khanyile
Before it's here, it's on the Bloomberg Terminal.
LEARN MORE