politics
Zuma's Exit Rekindles Hope in 'Rainbow Nation'
By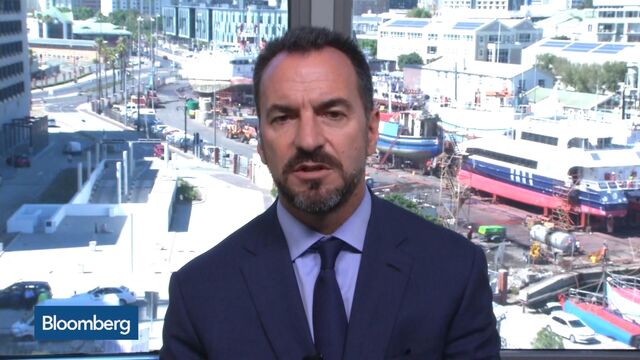 Want to receive this post in your inbox every morning? Sign up for the Balance of Power newsletter, and follow Bloomberg Politics on Twitter and Facebook for more.
The "rainbow nation" — its reputation sullied under Jacob Zuma's rule — is back. Or so hope South Africans after he buckled to pressure and resigned as president last night.
For many, the sight of Zuma announcing on national television the end of his nine-year, scandal-ridden administration was the stuff of dreams. Markets roared.
Long a tactical genius in retaining power, Zuma had met his match: Cyril Ramaphosa, the man Nelson Mandela wanted to succeed him. After becoming head of the ruling African National Congress in December, he first sweet talked Zuma into stepping down, then cajoled him and finally convinced the party's top leadership to replace him.
Zuma isn't disappearing from the public view just yet. He's likely to be summoned before a commission of inquiry investigating allegations that he allowed his friends, the Gupta family, to influence the appointment of ministers and awarding of state contracts.
For Ramaphosa, who'll be elected president today, the hard work lies ahead: clean out the cabinet, revive the economy and give hope that South Africa can return to the path that seemed so promising when Mandela walked out of prison 28 years ago to herald the beginning of the end of apartheid.

Global Headlines
School shooting | Former Republican presidential nominee Mitt Romney postponed announcing his Senate candidacy after a Florida high school shooting yesterday that left 17 people dead. The New York Times said it was the 12th mass school shooting since a gunman killed 20 first graders and six adults in 2012, prompting an unsuccessful effort to strengthen background checks on gun purchasers. President Donald Trump tweeted condolences, adding "no child, teacher or anyone else should ever feel unsafe in an American school."
Kushner subpoenas | U.S. tax authorities have requested documents from lenders and investors in real estate projects managed by Jared Kushner's family, David Voreacos exclusively reports. The Internal Revenue Service and the Justice Department are said to have issued the subpoenas within the past year. The tax inquiry began before Special Counsel Robert Mueller was appointed in May to probe Russian election meddling. A lawyer representing Kushner Cos. said it's not under investigation for any tax issues.
Immigration showdown | The U.S. Senate plans preliminary votes today on competing immigration plans, marking the chamber's first serious debate on the issue since 2013, when senators overwhelmingly approved an overhaul that died in the House. At issue now is protecting young undocumented immigrants from deportation and keeping Trump's campaign promises to boost border security. Barring a breakthrough, those efforts may fail.
Long winter of discontent | Angela Merkel has a record of staring down adversaries, including global peers such as Russian President Vladimir Putin. Now the tables are turned after the German chancellor blinked in her drawn-out struggle to put together a government. Handing the iconic Finance Ministry to her Social Democrat rivals to secure her fourth term may turn out to be a loss if Merkel fails to contain the swell of discontent in her party.
And finally... Use of WhatsApp's encrypted chat rooms is rife in the U.K. Parliament, and there's a place for everyone, from female Labour lawmakers to the secretive European Research Group representing Conservative hardliners. But they're more likely to be sharing cat photos than scheming. "Anyone joining in the hope of House of Cards-style plotting will be very disappointed," Tory lawmaker James Cleverly said. As Robert Hutton and Kitty Donaldson write, Facebook Inc.'s app has transformed British politics, just not in the way often imagined.

— With assistance by Kathleen Hunter, and Tony Czuczka
Before it's here, it's on the Bloomberg Terminal.
LEARN MORE