markets
RBA's Lowe Says Inflation, Jobs Will Decide Next Rate Hike
By
Animal spirits haven't fully returned, but mood improved: Lowe

Lowe says lower income growth is likely to affect spending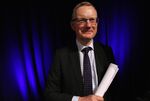 The timing of Australia's first interest-rate increase since 2010 will depend on progress in lowering unemployment and returning inflation to the midpoint of the central bank's target, Governor Philip Lowe said.
"As things currently stand, we expect that progress to be steady, but to be only gradual," Lowe said in his opening statement to a parliamentary panel in Sydney Friday. "Given this assessment, the Reserve Bank board does not see a strong case for a near-term adjustment of monetary policy."
The RBA chief generally reiterated views he expressed earlier this month that rates are unlikely to rise until unemployment is closer to 5 percent and inflation nearer the middle of its 2 percent to 3 percent target. While business investment has improved and hiring strengthened, continuing labor market slack and firms intent on containing costs are keeping a lid on wages.
"Lowe confirmed that monetary policy is on hold for the time being," said Gareth Aird, a senior economist at Commonwealth Bank of Australia. "The governor emphasized that while the economy is improving, wages and inflation should only pick up gradually."
The Australian dollar was little changed during the RBA chief's testimony, trading at 79.42 U.S. cents at 11:54 a.m. in Sydney. Traders are pricing in a bit over a 60 percent chance of a rate increase in December.
"Over time, we expect wage growth to pick up as the labor market strengthens further," Lowe said. "The pick-up, though, is likely to be gradual. This increase in wage growth and the more general reduction in spare capacity in the economy are expected to contribute to inflation picking up as well. But to continue the theme, this pick-up, too, is expected to be only gradual."

Australian employers added 400,000 jobs last year, three-quarters of them full time, among the best annual results since records began. But the nation's rapid population growth and a sharp increase in labor force participation has diluted the impact of that hiring on unemployment, which currently stands at 5.5 percent.
"We don't expect a repeat of these very strong outcomes in 2018, but we do expect employment growth to be fast enough to see a further gradual reduction in the unemployment rate," Lowe said. "The unemployment rate, though, is likely to remain above conventional estimates of full employment in Australia for some time."
Debt Mountain
The RBA's record-low cash rate of 1.5 percent drove a housing boom in Sydney and Melbourne that forced regulators to tighten lending rules, which have helped cool the property market. But it's left a legacy of record-high household debt, which, together with weak wages, means consumers are restrained in their spending capacity.
"Most households are experiencing only slow growth in their incomes and many expect that this will continue for some time yet. This lowering of expectations about income growth is likely to be affecting spending, especially in an environment of high levels of household debt," the governor said. "We continue to look carefully at household balance sheets. On balance, our assessment is that there has been some containment of the build-up of risk in this area."
Australia's economy is benefiting from the tailwind of a synchronized global upswing that's strengthening commodity prices as Chinese demand increases. Policy makers could receive a further boost should the Australian dollar depreciate as the Federal Reserve raises interest rates, reducing the appeal to global investors of holding assets Down Under.
Animal Spirits
"Business conditions have lifted and so too has the outlook for capital expenditure," Lowe said. "It would be an exaggeration to say that animal spirits have fully returned, but the mood has certainly brightened in much of the business community. There are a number of reasons for this, but in parts of the country the lift in mood is being helped by the large infrastructure projects underway."
Asked about the U.S. government's decision to cut corporate taxes and whether Australia should follow suit, Lowe said not at the expense of the budget deficit.
"In the U.S. what we've seen at the moment is just that," he said, noting the budget deficit there is forecast to blow out to 5 percent of gross domestic product. In Australia, "I think it would be a big mistake to do that on the back of a higher budget deficit."
(
Updates with economist comment in fourth paragraph.
)
Before it's here, it's on the Bloomberg Terminal.
LEARN MORE