Oracle Lobbied Labor Amid Job Lawsuit: The Influence Game
By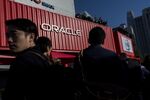 Oracle Corp. has never been shy about speaking up in Washington. Last year, that meant lobbying the government on employment regulations while being sued for alleged discrimination.
The world's second-largest software company spent an estimated $9 million on lobbying, which included pressing Congress and the Department of Labor on issues relating to employment regulations while the department sued Oracle for allegedly paying white men more than other workers with the same titles. The company also pressed lawmakers on the department's budget while the suit progressed, according to lobbying data compiled by Bloomberg.
The pay discrimination case, which also alleges that Oracle favored Asian applicants for technical roles, is scheduled for a June hearing. The allegations placed Oracle at the nexus of years-long debates regarding the wage gap between men and women and the push for greater ethnic diversity throughout the tech industry.
The Labor Department's lawsuit, "filed three days before the end of the last administration, is entirely without merit and was filed without a single complainant," said Ken Glueck, a senior vice president at Oracle. "There is a very broad, ongoing effort from nearly the entire business community to communicate to Congress how (the department) is incorrectly and inappropriately abusing its authority."
The Labor Department is seeking to recover lost benefits to the affected employees in the suit, including compensation, promotions and stock.
Larry Ellison's company has spent more than $95 million on lobbying since 2000, making it the third-biggest tech lobbyist in that time. The company filed reports with Congress showing that effort cost more than $12 million in 2017, but the amount will be reduced when Oracle revises its filings, according to Glueck.
Read more about tech industry power in The Influence Game series
For years, Oracle, which offers corporate-computing services, has pushed the government to improve its information technology, advocated for lower taxation, and urged an overhaul of the U.S. immigration system while it pressed for federal contracts.
Most of Oracle's lobbying last year centered on taxes and immigration, given the firm's $58.5 billion in cash held overseas as of Nov. 30 and its international talent pipeline. But the money allocated to employment regulations pointed to a fresh priority for the company during President Donald Trump's first year in office, when he and the Republican-led Congress promised business-friendly policies. Trump proposed a cut in the labor department's budget last year, including a reduction in enforcement.
Oracle shares rose less than 1 percent to $49.77 at 10:55 a.m. in New York.
— With assistance by Alex Webb, and Bill Allison
Before it's here, it's on the Bloomberg Terminal.
LEARN MORE