politics
Maduro Blames Colombia for Response to Venezuela Refugee Crisis
By and
Thousands of Venezuelans fleeing repression, economic crisis

Colombia, Brazil dispatch troops, refugee aid to border areas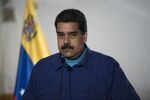 Venezuelan President Nicolas Maduro rebuked his Colombian counterpart, Juan Manuel Santos, for tightening controls along the South American nations' shared border amid a growing refugee crisis.
A surge of Venezuelans crossing the frontier has prompted Santos to deploy thousands of troops and restrict access to Colombia as the flow of migrants has overwhelmed local authorities and social services.
Speaking to reporters Thursday, Maduro said if he met Santos, he "would demand an explanation for xenophobic actions against Venezuelans," who have a right to leave the country if they want.
Countries bordering Venezuela are struggling to cope with the thousands of migrants fleeing the ravages of an autocratic government and destitute economy. While Maduro played down the exodus Thursday, he announced that the defense ministers of Colombia and Venezuela would meet to establish a "peace plan" along the border.
'By Land or Sea'
Almost 96,000 Venezuelans entered Colombia legally in November, more than twice the number for the same month a year earlier. On Wednesday, Brazil's government declared a social emergency in Roraima state, boosting troops and funding to attend to the needs of an estimated 60,000 Venezuelans in the area.
Venezuela has become increasingly isolated as Maduro attempts to consolidate power. Earlier this week, Peruvian President Pedro Pablo Kuczynski withdrew Maduro's invitation to this year's Summit of the Americas after the so-called Lima Group, comprised of over dozen nations, rebuked Venezuela over its planned April 22 presidential election
In a statement issued Tuesday, the group said that elections that exclude political actors and fall short of international standards "will lack all legitimacy and credibility" and demanded the date be changed.
Maduro on Thursday insisted that the election date would not be changed and that he'll still attend the summit in Lima.
"Are you scared of me? You don't want to see me in Lima? You'll see me, because rain, shine or lighting, by land or sea, I'll make it to the Summit of the Americas," Maduro said at a Thursday news conference in Caracas.
Later Thursday, Peru cabinet chief Mercedes Araoz said Maduro won't be able to enter Peruvian airspace should he attempt to attend the Summit in April.
Venezuela's opposition accuses Maduro of trying to rig a vote he cannot win given the country's quadruple-digit inflation and chronic food shortages. Regional leaders worry the refugee crisis will get worse if the government does not change course.
But Maduro countered on Thursday that things will get better once he wins another six-year term. "As soon elections are over, I guarantee you a new stage of economic prosperity," he said.
— With assistance by Jose Orozco, and John Quigley
Before it's here, it's on the Bloomberg Terminal.
LEARN MORE