business
Lululemon Founder Sells Chunk of Stake to Fund Other Ventures
By and
Transaction wasn't driven by recent scandal with CEO, he says

This week's move generates about $211 million for Chip Wilson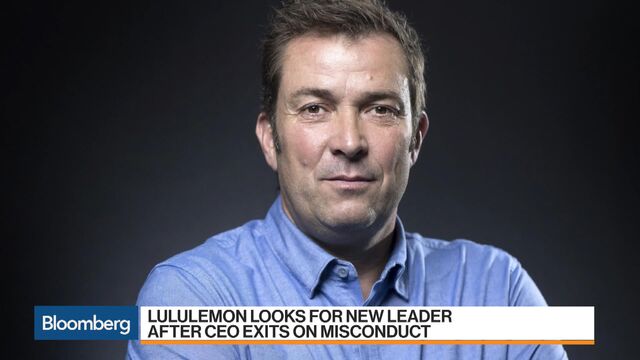 Lululemon Athletica Inc. founder Chip Wilson sold a chunk of his stake in the yogawear brand over the past three days, generating about $211 million along the way.
Wilson executed the trades between Monday and Wednesday, selling 2.75 million shares for as much as $77.69 each, according to a regulatory filing. It's the first time he's sold stock since September 2014.

The transactions follow last week's resignation of Lululemon Chief Executive Officer Laurent Potdevin after he was accused of unprofessional behavior -- misconduct that included having a relationship with a subordinate, according to people familiar with the situation. But the sales were planned "well in advance" of the news to help fund other business ventures, Wilson said in an emailed statement.
"This transaction was driven by a desire to reallocate a small portion of capital to those growing businesses," he said. "This transaction is not an indication of my new confidence in Lululemon to hire a cultural leader."
Potdevin's departure surprised Wall Street, but the change didn't have a lingering impact on Lululemon shares. The stock has climbed more than 20 percent in the past year, including almost 5 percent this week.
Wilson, 61, has slowly been reducing his presence at the company he created. Once the largest shareholder, he sold half of his stake to private equity firm Advent International Corp. in 2014 for about $845 million. Wilson still owns more than 10 percent of Lululemon's shares through a number of entities he controls.
Board Clashes
Wilson founded the retailer in 1998 after taking a yoga class and built a devoted following for the brand in the U.S. and Canada. But in recent years, he's repeatedly clashed with Lululemon leadership.
Since stepping down as chairman in 2013, Wilson has feuded with the board over strategy and called for the company to buy rival Under Armour Inc. Before that, he stirred up controversy by stating in a Bloomberg Television interview that the retailer's products weren't suited for some women's bodies.
After Potdevin resigned, Wilson said it was an opportunity to better unite international and external operations and find a "culturally aligned leader."
"Lululemon was built on family values," he said at the time.
Still, Wilson is sticking with the Vancouver-based company, he said on Thursday.
"I remain a significant shareholder in Lululemon, and I am deeply invested in the success of the brand and its people," Wilson said.
Before it's here, it's on the Bloomberg Terminal.
LEARN MORE