markets
HNA Unit Emerges as Small Shareholder in Lazard
By
U.S. filing shows HNA Capital held shares of investment bank

It's unclear when the Chinese group bought the stake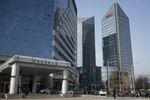 A unit of HNA Group Co. owned a small stake in Lazard Ltd. as of last year, according to a regulatory filing, the first time the Chinese group disclosed a stake in the New York-based investment bank.
The subsidiary, HNA Capital Group Co., held 58,655 Lazard shares, or less than a 0.1 percent stake, as of Dec. 31, according to the filing. The same unit also held 244,500 shares in Deutsche Bank AG and 27.4 million shares in OM Asset Management Plc, according to the filing.
It's unclear when the HNA unit bought the shares, currently valued at $3.3 million, or if it still holds them. It's also unclear whether any other HNA subsidiaries have additional Lazard shares. A representative for HNA didn't immediately respond to a request for comment.
HNA, a once little-known airline operator, has been under financial pressure in recent months after spending tens of billions dollars on a debt-fueled acquisition spree to expand its business scope from aviation to finance and technology.
Before it's here, it's on the Bloomberg Terminal.
LEARN MORE