markets
HNA Plans to Keep Deutsche Bank Stake at 8.8% After Cuts
By and
Struggling Chinese conglomerate used to own 9.9% in lender

Group took out new collar options, more financing from UBS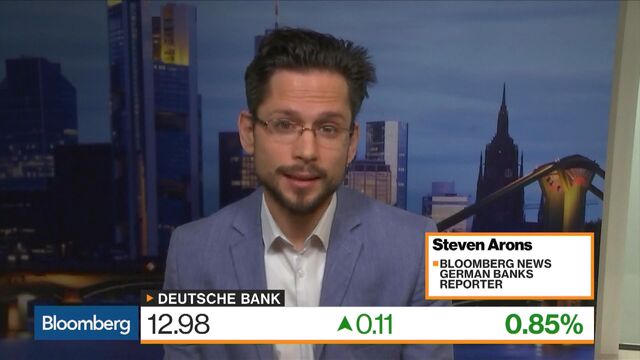 HNA Group Co., the troubled Chinese conglomerate, said it won't cut its stake in Deutsche Bank AG further after reducing the holding in the past two weeks.
The company managing HNA's stake, C-Quadrat, lowered its holding to about 8.8 percent from 9.9 percent at the beginning of February and intends to leave it that level, a spokesman said in an emailed statement Friday. The company has also renegotiated its financing structure and may make further filings related to Deutsche Bank as its voting rights may shift between directly-held ones and those attached to financial derivatives.
"A further reduction of our holding is not planned," the company said in the statement. "HNA will continue to be a significant investor in Deutsche Bank."
As part of options trades this week with UBS Group AG, HNA received another 253 million euros ($316 million) of financing from the lender, bringing its total borrowing through the contracts to 2.6 billion euros, according to a filing Thursday. The Swiss bank also was a lender -- along with ICBC Standard Bank -- on a margin loan that's set to be fully repaid Friday, the filing shows.
The trades were part of a series of maneuvers that cut HNA's stake in the German lender by about 10 percent as it made some sales to pay off the margin loan and other sales were triggered by options designed to limit losses, according to the filing. As part of the dealings, HNA entered into additional hedges, known as collar options, that limit potential gains and losses on the rest of its holding in the bank.
HNA also bought back some of the shares it sold earlier when it renewed the collar arrangement with UBS, the filing shows.
A detailed investigation of HNA's Deutsche Bank stake by the European Central Bank has become less likely after the stake was reduced, but it's still possible, a person briefed on the matter said. The ECB can trigger the investigation, formally known as ownership control procedure, when it deems an investor's influence on a bank to be significant, and it must be launched when an investor owns 10 percent or more in the bank.
Deutsche Bank rose as much as 1.46 percent in Frankfurt trading and was down 0.1 percent at 12.92 euros as of 11:54 a.m. The Bloomberg Europe 500 Banks & Financial Services Index gained 0.3 percent.
Hedging Increased
HNA had already placed more collar option trades in December, which left more than 90 percent of its stake hedged. Even with the additional protections, the Chinese company faces a paper loss of more than $200 million on its Deutsche Bank bet, according to the terms disclosed in filings.
The additional hedge may help ease pressure on HNA to pull back further from its stake in Deutsche Bank after the stock's price dropped 19 percent this year. The Chinese conglomerate has poured billions of dollars into a debt-fueled acquisition spree, including becoming Deutsche Bank's largest shareholder after the bank's 8 billion-euro capital increase last year.
Deutsche Bank is among the worst-performing large European bank stocks in the past year as its turnaround has taken longer than projected to boost profit.
A collar is an options-trading strategy that involves holding shares of a specific stock while buying protective puts and selling call options against that holding. The puts and the calls have the same expiration month and must be equal.
Read more on the exercise prices: HNA signs new Deutsche Bank collar hedge
China is cracking down on capital outflows and leading a campaign to snuff out risks stemming from the country's mounting pile of corporate debt. In HNA's case, it doesn't earn enough profit to cover interest expenses that, according to Bloomberg data, have soared to levels topping those of any non-financial company in China.
(
Updates with lower probability of ECB investigation in seventh paragraph. An earlier verson of this story was corrected to rectify the name of one of the lenders.
)
Before it's here, it's on the Bloomberg Terminal.
LEARN MORE