After $30 Billion Tumble, Buffett's Go-To Dealmaker Needs a Deal
By and
Kraft Heinz shares have declined 26% since failed Unilever bid

Lemann's 3G has struggled with organic growth after cost cuts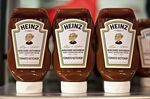 The pressure is on billionaires Jorge Paulo Lemann and Warren Buffett to do another blockbuster deal to revive the fortunes of their food giant, Kraft Heinz.
But this time, finding one might not come cheap, or easy.
Since Kraft's attempt to acquire Unilever fell apart a year ago, lackluster growth across the industry has led to a flurry of acquisitions among its rivals. That may make it harder for Lemann's 3G Capital to do what it does best: use Buffett's deep pockets to buy growth, cut costs and improve profit margins.
Without a deal, the big worry is that the maker of Planters peanuts, Maxwell House coffee and Oscar Mayer hot dogs will end up like any old U.S. food company, struggling to boost sales with a lineup of brands whose best days are behind them. Kraft's stock has tumbled 26 percent since the failed Unilever bid -- the most among major consumer-staples companies -- wiping out $30 billion from the company's market value.
"The premium has really come out of the stock," said Brittany Weissman, an analyst at Edward Jones. "Investors are getting a little impatient."

The Unilever bid came along like clockwork, roughly four years after the duo teamed up to take Heinz private, and two years after they acquired Kraft and merged it with the Ketchup maker. Each time, Buffett provided the cash and 3G did the dirty work: firing workers, closing plants and producing industry-leading margins.

Of course, there's no guarantee that Kraft will pursue a major deal this year. It could try to cut more costs and buy itself more time. Analysts suggest the company could also follow Unilever's lead, targeting acquisitions of smaller, fast-growing brands.
More Stagnation
"Acquiring a slow growth company at a high multiple may just lead to more revenue stagnation," said Asit Sharma, an analyst at The Motley Fool.
However, Kraft has yet to convince investors it can grow by building brands rather than trimming expenses, and its third-quarter results fell short of analysts' estimates. (Kraft is scheduled to provide a business update after the close of trading on Thursday. Its earnings are due Friday morning.)
That's heightened expectations for acquisitions. Speculation has long centered on familiar names of struggling U.S. packaged food makers, which include Kellogg, General Mills and Campbell Soup. Since the Unilever hiccup, it's also widened to include companies like Colgate, which make household products and have international exposure.
One rumor that some have zeroed in on has been Mondelez, which split off from Kraft in 2012. While Kraft gets about 70 percent of its revenue in the U.S., roughly 75 percent of Mondelez's sales come from outside North America. The maker of Oreos and Ritz crackers also has a sizable footprint in faster-growing emerging markets. What's more, Irene Rosenfeld, who orchestrated the split, recently stepped down as CEO. (Representatives for Kraft and Buffett, as well as the companies mentioned above, either declined to comment or didn't respond to requests from Bloomberg.)
One challenge may simply come down to price. Last year, deals in the food industry totaled $110 billion globally, data compiled by Bloomberg show. More than half of that came from acquisitions of U.S. food companies, which more than doubled from the previous year to almost $56 billion.
Binge Buying
And they've gotten more expensive. In 2017, the average multiple for food-and-beverage deals was 17.7 times earnings before interest, taxes, depreciation and amortization. That's up 36 percent from the prior year and almost 50 percent more than the average dating back to 2010, according to Akshay Jagdale, an analyst at Jefferies. In December, Campbell agreed to pay about $6 billion for Snyder's-Lance, spending 21 times Ebitda for a push into salty snacks as canned soup sales slump.
It's those high prices that could keep a potential deal on the back burner.
"I think they're going to be patient," said Ken Shea, an analyst at Bloomberg Intelligence. "They're taking the Buffett approach -- they'll wait for a really good opportunity and then pounce."
The recent stock-market rout has brought down valuations. And Buffett can afford just about any deal. Berkshire Hathaway is sitting on over $100 billion in cash, and Buffett has often used big acquisitions to put money to work. But 3G's go-to financier is famously tightfisted, known for skimping on everything from his McDonald's breakfasts to what he's willing to pay for businesses.
Deal Gamesmanship
There are signs Buffett is skeptical about valuations for consumer-goods deals broadly. In August, he ruled out Mondelez, noting that having more brands under the same umbrella wouldn't necessarily justify an acquisition by Kraft. Around the same time, he said in private that McCormick's $4.2 billion acquisition of Reckitt Benckiser's food business last year showed how prices had been stretched, according to a person familiar with the matter.
Steve Wallman, a longtime Berkshire investor and fund manager, says Buffett will ultimately come around for the right opportunity. He also doubts that Kraft's penchant for cost-cutting will get in the way of future deals.
"That's the nature of the game: Some companies will accept the offer, some won't," he said. Unilever was "in a position where they were going to fight it, and they did. The scary thing would be if basically everyone decided to fight."
Whatever the case, it's clear that Kraft will need to do something if it wants to break out of the broader slump for packaged food and adapt to the changing tastes of consumers.
"At some point, they have to navigate the new consumer reality," Sharma said.
— With assistance by Corinne Gretler, and Elizabeth Fournier
Before it's here, it's on the Bloomberg Terminal.
LEARN MORE