markets
'Trump Trilemma' Leaves U.S. Dollar as Odd One Out, Says ING
By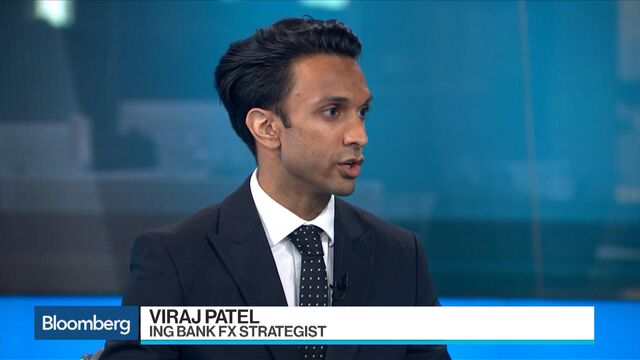 U.S. financial markets are facing a "Trump Trilemma" that could leave the dollar out in the cold.
Only two of three things happening in U.S. markets can co-exist for long: rising bond yields, a weaker greenback and confidence in America's economic future, ING Bank N.V. said. The dollar is the second-worst performer of 2018 among a basket of major currencies tracked by Bloomberg, besting only the South Korean won, while the U.S. 10-year Treasury yield is up nearly 50 basis points year-to-date.
"The conflicting market narratives of the Trump administration's 'America
First' economic agenda highlight a 'trilemma' which explains the dollar's
weakness," write a team of analysts led by global head of strategy Chris Turner.

"We're clearly seeing the first two operating in tandem -- rising bond yields and a weaker dollar -- which leads us to posit that investors might have reduced their confidence in the long-run state of the U.S. economy," ING strategists wrote. "This is not surprising given the heightened focus once again on the U.S. economy's 'twin deficits' – which has only been exacerbated by (i) the GOP's debt-financed tax cuts and (ii) the relative cyclical strength in other parts of the global economy."
This framework helps explain why the dollar remains on its back foot even as economists are starting to ratchet up their expectations for rate hikes in light of the recently-passed tax cuts and increasing evidence of a pick-up in price pressures.
"For the U.S. dollar to re-couple with rising U.S. bond yields – within our framework, we'd need to see a return in (relative) confidence over the medium-term U.S. economic outlook," they wrote. "Broadly, we're scratching our heads at finding any new positive U.S. demand or supply shocks that could change the landscape for an economy in the tenth year of its expansion cycle. Without this, it's easy to see the weak dollar story persist."
Kit Juckes, global fixed income strategist at Societe Generale, said on Twitter this presumptive trade-off wouldn't necessarily be unique to Trump's presidency. Such a backdrop would look similar to mid-2003 through 2004, he noted, when the U.S. dollar fell by about 15 percent, 10-year yields moved higher, and the S&P 500 Index gained more than 20 percent.

During that period, the MSCI World Index rose even more than the U.S. benchmark stock gauge -- implying that investors' estimation of the discounted value of future cash flows showed a bigger improvement in firms based outside the world's largest economy.
The history lesson comes with a warning: That seemingly positive economic environment soon gave way to a chase for yield that cultivated market excesses, which eventually culminated with the financial crisis.
"The worrying bit is that it's a fine line between money heading off to sexier places where returns are better, and an unsustainable 2006-style bull market that will end sooner rather than later in a horrible mess," tweeted Juckes.
Before it's here, it's on the Bloomberg Terminal.
LEARN MORE