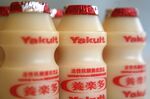 Danone SA is cleaning out the back of its fridge.
It has found $1.8 billion from selling part of its stake in Yakult Honsha Co., the Japanese consumer products group. The disposal will reduce Danone's stake from 21.3 percent to about 7 percent.
This looks like a useful tidying-up exercise, after its $10 billion acquisition of WhiteWave Foods two years ago stretched its balance sheet. Danone hasn't yet said what it will do with the proceeds from the Yakult share sale. While a disciplined course looks the most likely, investors need to be careful of a wildcard risk.
Danone has a target of cutting net debt to less than 3 times Ebitda by 2020, so ideally, it will use the funds to bring down borrowings. Martin Deboo, analyst at Jefferies, estimates that the transaction would reduce the company's 2018 net debt to Ebitda ratio from 3.5 times to 3.3 times. That would still be at a level that makes investors uncomfortable, but it is a useful step towards meeting the 2020 target.
Even if it takes this path, that wouldn't change the fundamental issues it faces.
First, it needs to prove that it can make the expensive WhiteWave purchase work. In its dairy business, it also needs to improve the performance of its core Activia brand, following the botched relaunch two years ago. Finally, Danone needs to defend its position in U.S. yogurt, without sacrificing profitability.
If the company can make progress on all these fronts, as well as delivering cost savings and synergies from the WhiteWave deal, it should be able to narrow its valuation discount to rivals Unilever NV and Nestle SA.
The outlier risk is that the Yakult stake sale is not just good housekeeping, but a prelude to another acquisition.
Although probably a remote possibility, after WhiteWave, such corporate activity can't be ruled out altogether. As Bloomberg Intelligence analyst Duncan Fox has noted, Danone's return on invested capital has floundered since management refocused the business toward nutrition. It has either overpaid for acquisitions, or existing business returns have collapsed.
With an activist hedge fund, Corvex Management, on its register, any rash moves risk incurring its wrath.
So far, it looks like Danone has learned from its mistake of the past, and is prioritizing financial discipline. And it has set a target of lifting its return on invested capital.
It should not veer from this prudent path. If it does, investors face crying over spilled milk once more.
Before it's here, it's on the Bloomberg Terminal.
LEARN MORE