markets
Cursed by the Yen: Investor Views on How Currency Haunts Stocks
By
Japan's Topix index fails to join global rally as yen jumps

It's time to go long Japan equities and the yen: AMP's Naeimi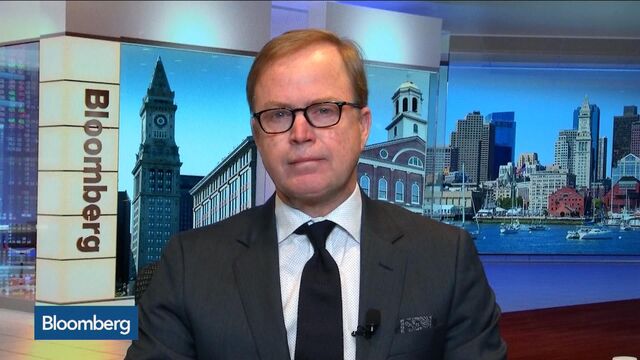 For many years, Japanese stocks moved in tandem with the yen. When the currency weakened, they tended to rise.
Last year, that relationship started to break down. The benchmark Topix index surged 20 percent even as the yen strengthened almost 4 percent against the dollar.
But recently, the negative correlation has started to come back, with the Topix and Nikkei 225 Stock Average failing to join global stocks' rebound from their selloff, primarily because the yen jumped. All this means that some of the world's biggest money managers disagree about the connection and how you should invest because of it.
Nader Naeimi of AMP Capital Investors Ltd. went long both Japan's equities and its currency this year, saying there's a strong case for unhedged allocation to Japanese assets. "I view this as a fundamental regime shift," said Naeimi, who oversees $120 billion. But others say assets the correlation will strengthen again, and that's bad news for the Nikkei 225.

Here are some investor and analyst takeaways:
Expect Return of Strong Yen, Weak Stocks

"While the negative correlation between the yen and Japanese stocks has weakened, there is still a correlation," said Jasslyn Yeo, a global market strategist at JPMorgan Asset Management (Singapore) Ltd. This relationship will strengthen again if the yen adds to its gains, she said. "This is especially so if the move reflects expectations" of Bank of Japan policy normalization, she said, noting that JPMorgan Asset sees such expectations as premature.
"It's a colossal move and really runs counter to the rational train of thought that higher U.S. yields should" strengthen the dollar, said Stephen Innes, Singapore-based head of trading for Asia Pacific at Oanda Corp. "The massive tail risk is on the break of 107.25, which could cause panicked exporters to enter the fray, not to mention funds adjusting their dollar-yen hedge ratios."
The yen continued to jump on Wednesday in Tokyo, trading at 107.20 per dollar as of 2:25 p.m. local time. The Topix fell as much as 1.5 percent before paring its decline to 0.3 percent.

Good News for Stock Pickers

"The strength of the yen is obviously negative for major exporters," said James Soutter, a portfolio manager at K2 Asset Management Ltd. in Sydney. "Thus, the impact to earnings is probably felt more by index funds and ETF trackers, rather than stock pickers," he said. "To me, it will increase Japanese stocks' attractiveness, as they have fallen and we can take different hedging options."
How Strong Is Too Strong?

"The yen has been undervalued for some time and the BOJ tries hard to keep it undervalued," said Frank Benzimra, head of Asia equity strategy at Societe Generale SA in Hong Kong. "Past 100, it would become more fairly valued against purchasing-power parity, and this is when it could become an issue for equity markets."
"If the yen strengthens beyond 105 per dollar, it would probably put pressure on companies to revise their earnings forecasts downward for next year," said Naoki Fujiwara, chief fund manager at Shinkin Asset Management Co. in Tokyo. But "there's little reason for the yen to strengthen further," he said.
"If the yen strengthens not too much, say another 4 percent or 5 percent, I think the Nikkei can stand it because of the domestic recovery," said Norman Chan, chief investment officer of Oreana Private Wealth in Hong Kong.
It's the Economy, Stupid

"I think the stronger yen becomes an issue if the economy stops performing," said Kerry Craig, Melbourne-based global markets strategist at JPMorgan Asset Management. "If an economy is good, is doing well, then naturally it has a strong currency. They go hand in hand. If you get a strong currency without the economy looking good, then that's when it becomes quite a challenge for the market."
In 2013, the first phase of Abenomics, "there was a very strong relationship between the yen and the equity market," said Peter Tasker, who oversees hedge funds at Arcus Research Ltd. "The correlations are much, much weaker now," he said. And while the recent yen strengthening is due to the currency being a haven asset, Japan has "its own growth story and the Asia region has its own growth story," he said. "If you're doing well, it's possible that the currencies will be stronger rather than weaker."
Still Bullish on Japanese Stocks

"Our view on Japan's pretty positive," JPMorgan's Craig said. "There's a greater focus on the fact that you're seeing corporate profits as a share of GDP rise to quite high levels, return on equity being quite high, that shift in governance attitudes by companies and returns to shareholders, and fundamentally, quite a strong improvement in the economy."
"Japanese stocks are a buy," Shinkin's Fujiwara said. They "look cheap, given that corporate profits stay solid."
— With assistance by Matthew Burgess, Min Jeong Lee, Moxy Ying, and Keiko Ujikane
Before it's here, it's on the Bloomberg Terminal.
LEARN MORE