Australian Lawmakers Rally Behind Leader Who Had Affair
By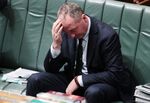 Some lawmakers in Australian Deputy Prime Minister Barnaby Joyce's party rallied behind their leader Wednesday amid reports that other colleagues want him to resign over an extramarital affair.
"Barnaby will remain our leader," National Party back-bencher Michelle Landry told reporters in Canberra, a week after the Daily Telegraph tabloid broke the story that Joyce, 50, is expecting a baby with his former media adviser. "He has done a lot for us."
Read more about the scandal plaguing Australia's government
While no current National lawmaker has openly called for his resignation or removal, Sky News reported that senior lawmakers in Joyce's party, the junior coalition partner in Prime Minister Malcolm Turnbull's government, had approached their leader and urged him to "consider his future."
Joyce has denied he breached parliamentary guidelines but has apologized for the affair, which has dominated Australian media for the past week. Turnbull has faced questions from rival lawmakers in parliament on whether he retained confidence in his deputy. His answer on Tuesday was a terse "yes."
Another Nationals lawmaker, David Littleproud, said there was "no leadership issue" and the media was "titillated" by the story. He spoke after the Daily Telegraph on Wednesday ran a photo on its front page that appeared to show Joyce in November 2016 staring at his now-partner at a conference, under the headline: "Bad Look."
Before it's here, it's on the Bloomberg Terminal.
LEARN MORE