markets
Market Swings Put Southeast Asia's Top Economies on Rate Hold
By and
Most analysts see Thailand, Indonesia holding rates in 2018

Market turmoil seen as limiting options for central banks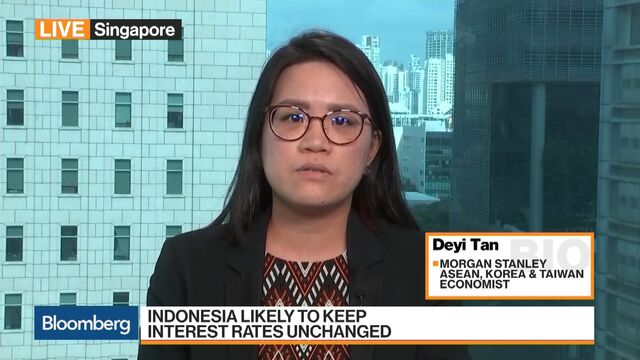 Central banks in Southeast Asia's two largest economies are forecast to keep interest rates unchanged this week, opting for stability in the face of wild market swings.
The Bank of Thailand and Bank Indonesia are both worried about their currencies, but for different reasons. Indonesia's rupiah has been the worst performer in Asia this month, prompting officials to intervene to support the currency. Authorities in Thailand are seeking to restrain gains in the baht that's made it one of the region's best performers, but a threat to the country's exports.
Both central banks have eased policy or kept rates near record lows in recent years to spur economic growth. With South Korea and Malaysia kicking off monetary policy tightening in Asia, the focus is shifting to when Thailand and Indonesia will follow. Most economists surveyed by Bloomberg predict the Bank of Thailand will stay on hold throughout this year, while Indonesia's rate path is more uncertain.
"At this stage of the economic recovery and cycle, stability is arguably more important than to continue pressing for faster growth," said Gundy Cahyadi, an economist at DBS Group Holdings Ltd. in Singapore.
The Bank of Thailand will probably keep its key rate near a record-low 1.5 percent on Wednesday, according to all 21 economists surveyed by Bloomberg. Bank Indonesia is likely to hold its rate at 4.25 percent on Thursday, according to all 19 economists surveyed.
Thailand
The Thai government had been hoping a pick-up in investment and consumer spending would broaden the expansion in Southeast Asia's second-largest economy. But while growth is expected to continue to strengthen in 2018, a stronger currency and muted price pressures have been complicating policy for the central bank. Inflation was just 0.68 percent in January, well below the central bank's target range of 1 percent to 4 percent this year.

The baht has largely shrugged off the selloff in markets, falling just about 0.2 percent since Jan. 29 even as foreign bond investors' net withdrawals reached almost $900 million this month.
"The economic and financial conditions increasingly justify a fresh start of normalization," said Somprawin Manprasert, chief economist at Bangkok-based Bank of Ayudhya Pcl. But the market turmoil and benign inflation may delay monetary tightening and the first rate hike is more likely to happen only in the second half of the year, he said.
Indonesia
Bank Indonesia has been in a holding pattern since back-to-back cuts in August and September that capped an aggressive run of monetary policy easing that began at the start of 2016. The economy has picked up pace and inflation is under control, with consumer prices rising at the slowest pace in more than a year in January.

But the rupiah has become volatile, falling 2 percent against the dollar since Jan. 29 to become the worst-performing currency in Asia. Bank Indonesia has made it clear it will continue to intervene to support the currency, which could also come under pressure as interest rates rise in the U.S. and elsewhere. The global selloff has also led to more than $560 million of net withdrawals from Indonesian bonds this month.
"Going into 2018, we were of the opinion that higher rates are in the offing in Asia," said Cahyadi, who expects at least one 25 basis-point hike from Bank Indonesia later this year. "The Bank of Thailand is unlikely to be in a hurry, however, given that core inflation remains soft at sub-1 percent."
— With assistance by Michael J Munoz, and Manish Modi
Before it's here, it's on the Bloomberg Terminal.
LEARN MORE