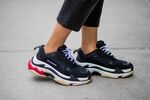 Gucci's "granny chic" has done it again.
The trailblazing double-G brand helped parent Kering SA deliver better-than-expected fourth-quarter sales and strong growth in yearly profitability. Luxury consumers around the world are still snapping up Gucci's revamped loafers and cat-print sweaters. The fashion house's operating margin reached a record 34.2 percent.
But the story from here is all about managing Gucci's inevitable deceleration. While it accounted for 57.5 percent of Kering's luxury sales last year, the year-on-year comparisons will get tougher from such a strong base.
Designer Alessandro Michele's look -- lots of garish floral prints, frumpy cardigans and high-necked dresses -- has been around a while now. It's only natural that its growth starts to moderate, given the fashion crowd's constant hunger for novelty.
There are several non-Gucci levers that Kering can pull to soften the effect of its probable slowdown. Handbag-maker Bottega Veneta, which has dragged on earnings for a couple of years, showed some improvement in the final quarter, with underlying sales growth beating expectations.
Chic streetwear label Balenciaga is enjoying a moment. It was Kering's fastest-growing brand in the last three months of 2017. While Balenciaga is far smaller than Gucci, management says the potential of its younger customer base is "gigantic".
But perhaps the biggest comfort is financial rather than fashion-based: the imminent spin-off of most of its stake in Puma, which will make Kering a pure luxury group.
The shares have already doubled over the past two years, as Gucci's recovery took hold. They trade on about 20 times expected earnings -- just below the Bloomberg Intelligence luxury peer group. All things being equal, the focus on luxury should help move the price to earnings multiple closer to Hermes International's 35 times.
That would soften the blow of Gucci's growth shifting from front-row fabulous to merely on-trend. Michele's transformation may have reached the finishing line. Something else needs to take up the well-heeled running. 
Before it's here, it's on the Bloomberg Terminal.
LEARN MORE