Monte Paschi Declines as Restructuring Far From Bearing Fruit
By and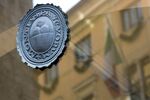 Banca Monte dei Paschi di Siena SpA, the state-rescued Italian bank, fell in Milan trading after it reported a fourth-quarter loss on weak revenue and restructuring costs.
The shares were down 2.8 percent at 3.72 euros as of 9:55 a.m. The stock, which returned to trading Oct. 25 after an 10-month suspension, is now valued more than 43 percent below the 6.49 euros apiece paid by Italy for the rescue.
"Fourth-quarter results show that there is no shortcut to restore Paschi's profitability and that time is needed to bear the fruits of the restructuring under way," Riccardo Rovere, an analyst at Mediobanca SpA with a neutral recommendation on the stock, said in a report Monday. Underlying profitability remains negative, while capital is robust enough to continue the process of reducing risk, the analyst said.
Monte Paschi, undermined by souring loans and derivatives deals that backfired, requested state aid last year after it failed to raise funds from private investors. The Italian government stepped in to save the world's oldest bank in the summer, injecting 5.4 billion euros ($6.6 billion) in aid as part of an 8.3 billion-euro precautionary recapitalization.
The bank, which is cutting about a fifth of its workforce, eliminating branches and plans to sell 28.6 billion euros of bad loans by 2021, posted 501.6 million-euro net loss in the last three months of the year.
Highlights from earnings released Feb. 9
4Q revenue EU802.4 million, estimate EU848.0 million (range EU833.0 million to EU871.0 million) (Bloomberg data) (3 estimates)
4Q provision for loan losses EU551.7 million, estimate EU230.3 million (BD) (3 estimates)
4Q net fee and commission income EU363.3 million
Common equity Tier 1 ratio 14.8%
Before it's here, it's on the Bloomberg Terminal.
LEARN MORE