Game Changer
The Inventor of Prepaid Debit Cards Is Going Mobile
Steve Streit runs payment systems that are the backbone for Apple Pay Cash, Uber, Intuit, and more.
By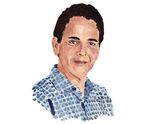 It was 2012, and payment systems entrepreneur Steve Streit could see that banking was moving to mobile. He also knew that his company couldn't get there in time.
In what may have seemed like an unorthodox move, Streit, the founder and chief executive officer of the country's largest prepaid card provider, Green Dot Corp., decided to acquire the failing location-based dating app Loopt for $43 million—not for its technology but for its talent. Loopt's co-founder and CEO, Sam Altman, stayed on for a time to lead Green Dot's mobile development program. (He went on to become president of the famed tech incubator Y Combinator.) Streit's gamble paid off last year when he announced that Green Dot would power Apple Inc.'s new person-to-person payments offering, Apple Pay Cash.
Other deals followed the Loopt acquisition. Now "we're the bank of Apple and Uber and Intuit," Streit says. "People that don't know they're using a Green Dot account are using a Green Dot account."
Streit grew up in 1960s North Miami and studied broadcast management at the University of Florida before dropping out in his senior year for a job as a late-night radio DJ. In 1999, with online shopping on the rise, he abruptly switched gears and created a prepaid debit card teenagers could use to shop online. Kids were only moderately interested in his invention, but it quickly took off among adults who didn't have a bank account or credit history. A decade later, Green Dot went public. "We're actually one of the most distributed and ubiquitous banks in the entire country," Streit says. Last year, to expand the company's reach, it acquired competitor UniRush, founded by the former rap mogul Russell Simmons.
Steven Kwok, an analyst at Keefe Bruyette & Woods Inc., reserves particular praise for Green Dot's recent innovations. "They've been able to transform themselves over time from just a regular prepaid provider to almost a financial-services company," he says. "They focused on using their capital to invest in these acquisitions. It fit together nicely."
Green Dot's mobile payments platform will be especially valuable as technology companies seek to push into financial services. "It's very rare that you have a bank that speaks tech," Streit says. "That is why I think we've been so successful."
Before it's here, it's on the Bloomberg Terminal.
LEARN MORE