Critic
Black Panther Review: When Careful Planning Meets the Perfect Moment
An inspiring, Afrocentric hero and empowered women characters is a timely premise. But 2018's first blockbuster was set in motion years ago.
By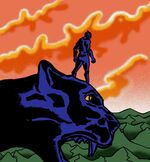 "It's your time to rule." In Black Panther, Marvel Studios LLC's movie due out on Feb. 16, that line is delivered to T'Challa, the ­titular character. But it could as easily be a pronouncement about the film itself, which has already sold more advance tickets than any other superhero movie—and sparked a grass-roots campaign for screenings and fund­raisers to help school-age children see it.
It's worth remembering that Black Panther's ascent to blockbuster status wasn't always a foregone conclusion. Hollywood hand-wringers had their pick of regressive reasons: The film is set in Africa, its cast is predominantly black, and it shares a name with a controversial revolutionary movement. The lesser-known character first appeared in 1966, in an issue of Fantastic Four, three months before Huey P. Newton and Bobby Seale founded the Black Panther Party.
Rather than shy away from this context, the movie wraps itself in it like armor. Black Panther is unapologetically Afrocentric, empowering without being earnest. It begins in Oakland, Calif., but the bulk of the story concerns Wakanda, a secretive, affluent, and technologically advanced African nation. Young T'Challa, played by Chadwick Boseman, has ascended to the throne after his father's assassination and must prove he's ready to rule.
His rival is Erik Killmonger, an American-born mercenary played by Michael B. Jordan. The stakes are higher than claiming the title of head of state; hanging in the balance are the country's deposits of vibranium, a fictional element that's given Wakanda an ability to produce weapons of mass destruction. Killmonger wants to use that power to subjugate other countries, exact payback on colonizers, and net a tidy profit all at once.

Boseman, who's played boundary-breaking figures Jackie Robinson and Thurgood Marshall, is assured in his portrayal of T'Challa. A 20-minute chase scene set in Busan, South Korea, makes a compelling argument that he, not Idris Elba, should be the first black 007. But Jordan's antihero packs more of a punch. He's a philosophical if violent opponent, an antagonist whose militant worldview evokes that of many original Black Panthers. "I waited my whole life for this," he says at one point. "I'ma burn it all!"
Jordan isn't the only scene stealer. Letitia Wright plays T'Challa's sharp-tongued sister, Shuri, Wakanda's reigning technological genius, and comes off as a smarter, sassier Q from the James Bond movies. Danai Gurira is Okoye, the head of a cadre of all-female royal bodyguards who are as inspiring as anything from Wonder Woman, last year's surprise hit.
Although seemingly tailor-made for today—the film arrives in the wake of Black Lives Matter; neo-Nazis marching in Charlottesville, Va.; and President Trump's profane description of African countries—Black Panther is the rare product of forward thinking in the film industry. As long ago as 2009, Marvel's president, Kevin Feige, recognized a lack of diversity in both characters and genres. Foreseeing franchise fatigue, he made Marvel's flagship an ensemble, The Avengers, then delved into comedic fare such as Deadpool and the spaced-out Guardians of the Galaxy.
When Feige selected director Ryan Coogler in 2014, Coogler's sole feature film was Fruitvale Station, based on the police shooting of an unarmed black man in Oakland. His second, Creed, radically reinvented the Rocky franchise. He's raised the bar even higher here. Visually, Black Panther is unlike any movie I've ever seen, probably because there's never been a $140 million action film that's created a world based on African designs and aesthetics, one with armor-plated battle rhinos, high-tech spears, and towering skyscrapers that reference the adobe-and-wood architecture of Mali.
But it's precisely because of such perceived risks, not despite them, that Black Panther is bound for glory. As with Wonder Woman, by Marvel rival DC Entertainment, the movie appeals to groups far outside the traditional Comic-Con crowd, an audience large enough that carmaker Lexus is betting on it to help reinvigorate flagging sales. In an inspired bit of product placement, the brand's LC 500 model is the characters' ride of choice, illustrating again that few things grease the wheels of progress like a profit.
Late in the film, T'Challa gets this advice: "Only you can decide what kind of king you want to be." If audience buzz is any indication, he'll be one who rules for years to come.
Before it's here, it's on the Bloomberg Terminal.
LEARN MORE