Zuma's D-Day Nears as Ramaphosa Promises Power Transition
By , , and
South African ruling party's top body is meeting in Pretoria

Ramaphosa, Mandela's favored successor, set to replace Zuma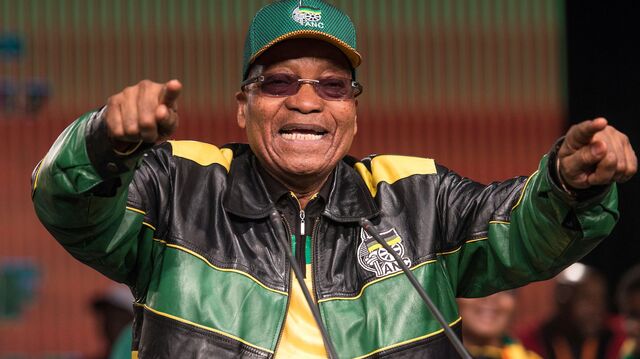 South African President Jacob Zuma's fate is set to be sealed at a meeting of the top leadership of the ruling African National Congress called to conclude the transition to a new administration.
The National Executive Committee assembled on Monday in the capital, Pretoria, as Zuma, 75, has defied growing pressure to resign since his deputy, Cyril Ramaphosa, replaced him as party leader in December. His nine-year tenure has been marred by scandal and eroded support for the ANC. Zuma's spokesman denied a report by the state-owned South African Broadcasting Corp. that he'd agreed to step down, calling it "fake news."

"Our people want this matter finalized," Ramaphosa told a crowd of about 3,000 people on the Grand Parade next to the Cape Town city hall on Sunday to commemorate the 28th anniversary of Nelson Mandela's release from prison. "The National Executive Committee will be doing precisely that. We know you want closure on this matter."
While the 65-year-old lawyer's rise to the ANC's top post assured him of being its presidential candidate in elections next year, the new leadership wants an early exit for Zuma so it can begin rebuilding support. Should Zuma refuse to obey the national executive's order to step down, it could tell its lawmakers to use their majority in parliament to vote him out of office, clearing the way for Ramaphosa to take over.
Mandela Address
Ramaphosa delivered his speech at exactly the same venue and time when he held the microphone for Mandela's address 28 years ago on the day he was freed from a 27-year incarceration. The rally Sunday marked the start of a series of events to celebrate the centenary of Mandela's birth.

"As we emerge from a period of difficulty, a period of disunity and discord, this Nelson Mandela centenary year offers us what I would call a new beginning," said Ramaphosa, who was Mandela's favored successor two decades ago. "It offers us an opportunity to restore to our national life the values and principles for which he so firmly stood."
The prospect of a Ramaphosa presidency has cheered investors, who are banking on him fulfilling his pledge to revive the flagging economy and creating greater policy certainty. The rand has gained the most against the dollar of the 16 major currencies since his Dec. 18 election as ANC leader. It advanced as much as 0.9 percent against the U.S. currency on Monday, and was 0.5 percent higher at 11.93 at 5:11 p.m. in Johannesburg.
South Africa's opposition parties want the National Assembly to debate a motion of no confidence in Zuma this week and for parliament to be dissolved immediately after that ahead of an early election. The Economic Freedom Fighters, the third-biggest party, last month proposed the no-confidence motion that's currently due to be debated on Feb. 22, and plans to go to court if it isn't brought forward.
For Piet Zati, an unemployed father of four from Cape Town's Khayelitsha township, a change in power can't happen soon enough.
"I don't understand why the ANC's new leadership has not removed Zuma already because that is long overdue," he said at the rally. "His time is up, and he created more trouble than good during his time in office."
Criticizing Zuma
Ramaphosa, one of the richest black South Africans, has had a difficult relationship with Zuma since he left his business career and returned to full-time politics five years ago, and became deputy president in 2014. The two have quarreled in recent months, with Ramaphosa publicly criticizing Zuma's decision last year to fire his respected finance minister, Pravin Gordhan, and his failure to tackle corruption.
Mandla Mandela, the former president's grandson who attended the rally, said the ANC's unity had to be preserved through the transition.
"We just need to give them time to attend to these issues and in due time they will come back to us with solutions," he said in an interview.
Ziyanda Peter, a 33-year-old unemployed mother of four from Langa township in Cape Town, is looking to Ramaphosa to rebuild the ANC and revive the hope that South Africans had for a better future when Mandela led the country.
"I was young in 1990 when Nelson Mandela was released, but maybe Ramaphosa will inspire us the way Mandela inspired people the day he was freed from prison," she said.
— With assistance by Sam Mkokeli
Before it's here, it's on the Bloomberg Terminal.
LEARN MORE