Kuroda's Reported BOJ Reappointment May Ease Pressure on Yen
By
Bank of Japan chief's second term would provide stability

Big challenges lie ahead as pressure for policy exit grows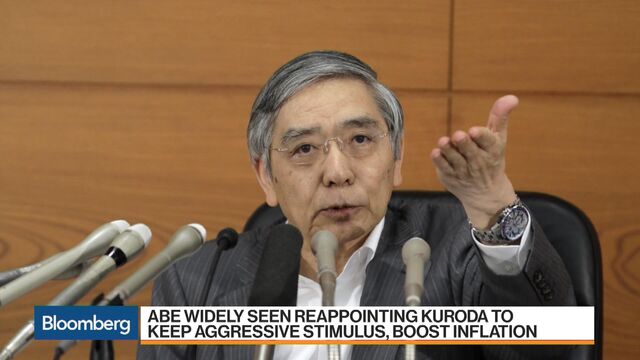 Reports of Prime Minister Shinzo Abe's plan to nominate Haruhiko Kuroda for another term as chief of the Bank of Japan -- an event that's been widely expected -- come at a critical time for the yen and the Tokyo stock market.
The selection of Kuroda, 73, would indicate that Abe wants to continue the monetary stimulus program that has weakened the currency, boosted exporters and fueled rising corporate earnings and share prices. Kuroda also would provide some international stability as 2018 proves a year of transition atop the world's central banks, with Jerome Powell newly installed at the helm of the Federal Reserve and People's Bank of China Governor Zhou Xiaochuan thought likely to step down.
"The government may have feared that a continued market sell-off in the U.S., combined with a long weekend for Japanese markets, which are closed on Monday, would have sent the yen soaring," said Bloomberg Economics' Yuki Masujima. "Word of Kuroda's reappointment will lean against yen strength."
The Japanese currency ended Friday little changed at 108.80 versus the dollar, while the Topix share-price gauge, which closed before the news about Kuroda surfaced, was down 7 percent for the week.
"In current agitated market conditions, the promise of policy continuity should be a support for Japan equity risk and lean against yen strength," Krishna Guha, vice-chairman of Evercore ISI and a former New York Fed official, said in a note. "Market participants can for the time being bank on the BOJ maintaining both its current zero 10-year yield target and equity ETF purchases."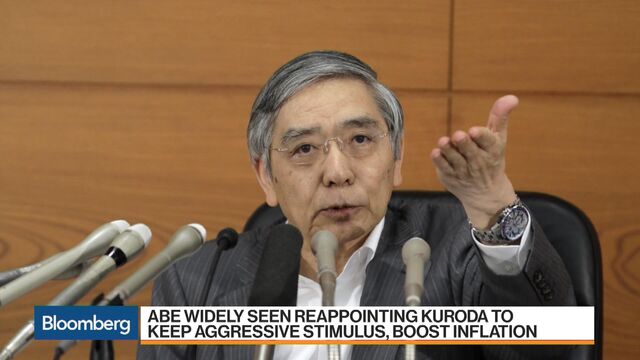 The report late Friday night from Kyodo News didn't say where the information on Abe's plan came from. The Nikkei newspaper followed soon after with a story that cited "several government sources," without being specific. Motosada Matano, a spokesman for the prime minister's office, declined to comment.
Inflation Target
While Japan's consumer prices started rising during Kuroda's tenure as governor, inflation is far from the central bank's 2 percent goal, despite nearly five years of unprecedented stimulus. Concerns are growing about the sustainability of the BOJ's easing and how it will manage an eventual policy exit.
The central bank owns about 40 percent of outstanding Japanese government bonds, and its balance sheet has swollen to nearly the size of the nation's 549 trillion yen ($5 trillion) economy. As a share of gross domestic product, the size of the BOJ's balance sheet has grown far larger than that of the Federal Reserve and the European Central Bank.

Even with all these problems, Kuroda's reappointment beyond his current term ending April 8 has been widely expected by economists, according to a Bloomberg survey in January.
"This will give a sense of relief to volatile markets," said Takeshi Minami, chief economist at Norinchukin Research Institute. "This will send a message that the BOJ will keep up its ultra-loose monetary easing while the U.S. raises the pace of interest-rate hikes. It will stabilize the markets to some degree." Minami noted that Abe had recently told parliament that Kuroda has been doing a good job.
While inflation continues to disappoint the BOJ, gross domestic product has achieved the longest expansion since the mid-1990s under Kuroda's watch.
His reappointment would be subject to approval by parliament, where Abe's ruling coalition holds a strong majority. The terms or Kuroda's two deputy governors are due to end in March.
— With assistance by Yoshiaki Nohara, Toru Fujioka, and Henry Hoenig
Before it's here, it's on the Bloomberg Terminal.
LEARN MORE