Pence 'Encouraged' by Talks With South Korea's Moon at Olympics
By
Moon met Saturday with sister of North Korea's Kim Jong Un

Vice president ignored, didn't avoid North Korean delegation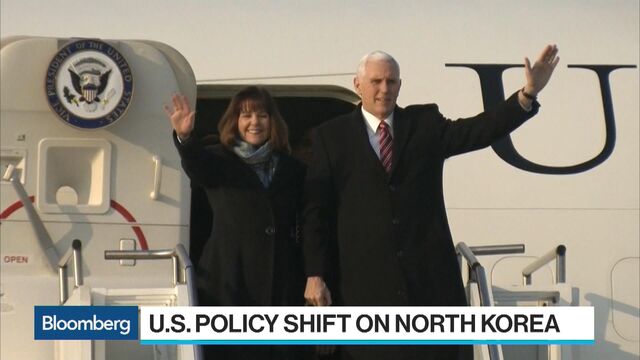 Vice President Mike Pence was "encouraged'' by his talks with South Korean President Moon Jae-In at the Winter Olympics, insisting that Moon's outreach to North Korea had not undermined bilateral relations with the U.S.
"For all that President Moon has done in outreach and discussions around the Olympics and inter-Korean talks, there is no daylight between the United States and the Republic of Korea and Japan on the need to continue to isolate North Korea economically and diplomatically until they abandon their nuclear and ballistic-missile program,'' Pence told reporters Saturday aboard Air Force One.

Pence said he and Moon spoke as "friends'' and are completely aligned on the need to increase diplomatic and economic pressure on North Korea.
Before Moon and Pence met Saturday at an Olympic speed-skating event, the South Korean president met with Kim Yo Jong, the sister of North Korean leader Kim Jong Un.
Moon and Pence didn't discuss an invitation extended by Kim Jong Un to meet with the South Korean leader in Pyongyang, said a senior White House official who requested anonymity to discuss internal deliberations. It isn't clear if the White House would support such a meeting. The White House official said the invitation didn't undermine or detract from Pence's trip.
While he was in South Korea, Pence opted to ignore the North Koreans but didn't avoid meeting with them, the official said.
"My message in Japan, my message in South Korea, my message in meeting with leaders of both of those countries is that we are going to continue to stand together along with our other allies and partners to continue to intensify the economic and diplomatic pressure on North Korea until they permanently abandon their nuclear and ballistic-missile program," Pence said.
Before it's here, it's on the Bloomberg Terminal.
LEARN MORE