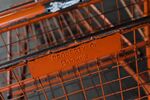 Just when Tesco Plc looked to have Booker Plc in its carrier bag, up pops an activist investor to disrupt the shopping trip.
Sandell Asset Management Corp., a U.S. hedge fund, is right to press Britain's biggest supermarket chain to up its bid for the wholesaler. The only question is: why has it taken so long for someone to agitate for more?
At 12 percent, the premium in the offer always looked skinny. True, Booker was highly valued before the deal -- but it enjoyed strong sales and profit growth, was generating cash and returning it to shareholders.
However you cut it, the supermarket's bid, currently worth 219 pence plus a small closing dividend, looks mean.
Assume Booker tracked the FTSE 250 Index. The group's standalone price would be about 195 pence-a-share. If, like Sandell, you assume it traded at the same relative valuation to the index as it did before Tesco's offer emerged, the price would be more than 210 pence per share.
Sandell puts it at 230 pence, using Booker's former earnings and Ebitda multiples. Add a premium for control, and the hedge fund suggests Tesco's offer should be in the area of 255 pence to 265 pence.
You don't need to be wildly optimistic about Booker's prospects, or greedy for a fat premium, to get to that range. 
What's more, Tesco could afford to raise its offer without destroying value. A bid at 265 pence would imply a total price of 4.6 billion pounds ($6.4 billion) after deducting Booker's net cash. Add the proposed synergies to Booker's forecast operating profit in 2020, and the deal would generate a post-tax return of about 8 percent, covering its cost of capital.
The small premium in the original deal helped to create the impression that this was a merger rather than a takeover. That looked designed to prevent antitrust authorities and Booker's small business customers from taking fright. They clearly haven't.
The difficulty in Sandell's argument is that if Booker really were worth substantially more, the stock price would already reflect that. If you add in Booker's estimated 3.7 pence-a-share closing dividend, the retailer today trades at a small premium to Tesco's offer rice.
Tesco has to strike a balance. Raising the bid could further antagonize shareholders who complained about the deal last year. They could scupper the transaction altogether.
Equally, Tesco has the most to lose if the deal unravels. Folding in Booker is a key part of CEO Dave Lewis's strategy -- and brings in the wholesaler's capable CEO, Charles Wilson.
For Wilson and his shareholders, the downside looks more limited. The company's standalone value looks robust and there's still the possibility that a different buyer, possibly even Amazon.com Inc., could emerge.
So Wilson should be emboldened to seek more. There are several not-too-painful mechanisms for doing so, including adding more paper into the mix, and raising Booker's final dividend.
He will have a top job at Tesco if the deal goes ahead. For now, though, Wilson's complete focus must be on Booker and its shareholders. And with a 6 percent stake, he has plenty of reason to fight for them.
Before it's here, it's on the Bloomberg Terminal.
LEARN MORE