politics
Trump Says Aide Accused of Violence 'Did a Very Good Job' in White House
By and
White House chief of staff revises narrative on aide's exit

Trump praises former aide without mentioning ex-wives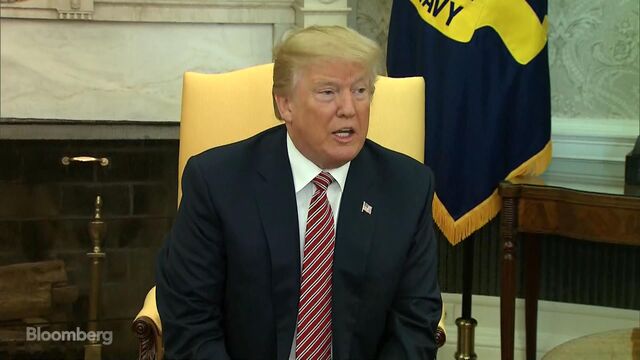 White House Chief of Staff John Kelly encouraged subordinates in a meeting Friday to spread the word that he had acted to remove Staff Secretary Rob Porter within 40 minutes of receiving evidence that allegations of spousal abuse against the aide were credible, a person familiar with the matter said.
But Kelly's account ignores the fact that he stood by Porter even after the DailyMail.com, the U.S. website of a British tabloid, approached the White House with details of an interview with one of his ex-wives. Jennifer Willoughby. Kelly responded with a statement calling Porter "a man of true integrity and honor."
ABC News reported Friday that Kelly told Trump within the past 24 hours that he's willing to resign. White House spokesman Hogan Gidley said after the report was published that Kelly hasn't offered his resignation.
Porter announced he would resign the day after the DailyMail.com article , following a report in The Intercept that included a photograph of a second ex-wife, Colbie Holderness, with a black eye she said he inflicted. Kelly told his staff he considered the photo credible evidence the abuse had occurred.
The White House has previously described Porter's departure as his personal decision and said he wouldn't leave immediately, but Thursday became his last day after Kelly issued a second statement late Wednesday condemning domestic violence.
Aware of Allegations
Several White House aides have said Kelly failed Trump by not moving more swiftly to remove Porter, despite knowing for some time before the news reports this week that trouble in his background had held up a permanent security clearance.
In the staff meeting, Kelly said that while he was aware of allegations against Porter before this week, Porter had told him the claims were not true. He also stressed to the staff to spread the message that Kelly himself is concerned about domestic violence.
The Washington Post earlier on Friday reported details of Kelly's staff meeting.
President Donald Trump praised Porter on Friday for performing well in the White House and cautioned reporters to keep in mind that he has denied allegations of domestic violence.
"We wish him well," Trump told reporters unexpectedly summoned to the Oval Office. "He did a very good job when he was in the White House and we hope he has a wonderful career and hopefully he will have a great career ahead of him." 
Trump reminded reporters that "he says he's innocent and I think you have to remember that."
The president made no mention of the two ex-wives who have accused Porter of abuse, but expressed sympathy for his former aide.
'Tough Time'
"It's an obviously tough time for him," Trump said.
Trump said the episode "is very sad" and "certainly he's also very sad."
He added that he learned of the allegations "recently" and "I was surprised by it."
The incident is another embarrassing staffing setback for Trump, who has lost many top aides in his first 13 months in office.
The Post reported on Thursday that White House Counsel Don McGahn knew in January 2017 that Porter's ex-wives were prepared to make damaging claims that could threaten his security clearance.
Trump didn't answer a question about whether he still supports Kelly, McGahn or Communications Director Hope Hicks, who has been in a romantic relationship with Porter.
'No Tolerance'
Porter has denied the allegations and said he took the photos Holderness provided to The Intercept. "The reality behind them is nowhere close to what is being described," he said in a statement announcing his resignation.
Vice President Mike Pence said in an interview with NBC News that he wasn't aware of the allegations until Porter resigned.
"There's no tolerance in this White House, no place in America, for domestic abuse," he said in South Korea, where he is attending the opening ceremonies of the Winter Olympics. "I think the White House has acknowledged that they could have handled it better."
"When I return to Washington, D.C. I'm going to look into the matter and I'll share my counsel with the president directly," he said.
— With assistance by Justin Sink
(
Updates with ABC News report on Kelly willing to resign in third paragraph.
)
Before it's here, it's on the Bloomberg Terminal.
LEARN MORE