Trinity Mirror Buys Rival U.K. Tabloids to Resist Google Drain
By
$177 million deal highlights print decline and consolidation

U.K. newspaper publishers agree to deal after year of talks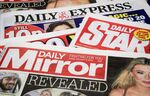 Trinity Mirror Plc is buying rival Express and Star tabloids for 126.7 million pounds ($177 million), a milestone deal as Britain's declining print media outlets seek scale to adapt to the shift of readers and advertisers online.
"In a world of big global digital platforms, in a challenged industry, scale matters," Simon Fox, chief executive officer of the publisher of The Daily Mirror, said by phone. "We can present advertisers with a really big audience, both in print and digitally, and they can buy it in an efficient way. That is really important when competing against the platforms." 
Investors agree. Trinity Mirror's share price jumped as much as 15 percent after the company said it will acquire the publishing assets of billionaire Richard Desmond's Northern & Shell on Friday, a year after Bloomberg reported early negotiations. The deal marks the biggest shake up in British press ownership since Nikkei Inc. bought the Financial Times for 844 million pounds in 2015.
Britain's publishers are battling declines in newspaper circulation and ad revenue as well as large debt and pension liabilities by selling assets and focusing more on digital publishing.
The deal marks a retreat for the Express' owner, outspoken self-described media mogul Desmond, after a lifetime in newspapers -- though Northern & Shell will retain an 8.6 percent stake in the new combined group, making him the third-largest shareholder. As well as the tabloids, he has published various adult magazines and operated U.K. TV station Channel 5.
The deal also includes Northern & Shell's three celebrity magazines OK!, New! and Star as well as half of the Irish Daily Star, headquartered outside Dublin.
As well as presenting a united point of purchase for advertisers, the plan is to squeeze more value out of operations as print circulations and ad revenues erode. Fox said the deal will free up 20 million pounds in synergies from removing duplication in finance, marketing, sales, circulation, printing, distribution and production. He said there will be job cuts, but declined to give figures.
The publishers will put the newspapers' sport teams together, said Fox, freeing up a bigger pool of reporters to cover more games across more events.
One thing that won't change is the national tabloids' famous opposing political slants: the pro-Remain Mirror has traditionally championed the Labour Party and the Express has in recent years supported the Brexit-backing U.K. Independence Party.
"The editor is responsible for determining the content and reflecting what their readers want, and that's not going to change," Fox said. "The Express is not going to become left wing, the Mirror's not going to become right wing."
Before it's here, it's on the Bloomberg Terminal.
LEARN MORE