hyperdrive
Tesla Wraps Up Worst Week Since July on Slow-Going Model 3
By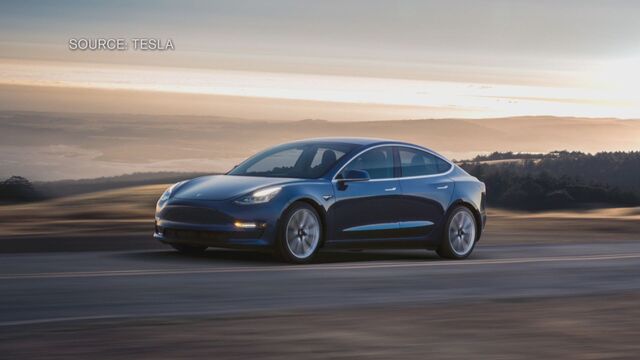 Elon Musk went from flying high after his successful SpaceX launch to watching Tesla Inc. shares fall back to Earth.
The electric-car maker's stock dropped 9.7 percent this week, the biggest one-week slide in seven months. The decline -- which has been steeper than the broader market selloff -- has been fueled by concerns surrounding Tesla's Model 3 sedan.

The automaker reported fourth-quarter results after the market closed Wednesday that included a dramatically reduced cash burn and unchanged production targets. But Musk disclosed during the earnings call that a new automated battery line is still in Germany, leading some analysts to fear further delays. The company also told some consumers who reserved the base version of the $35,000 car that their expected delivery dates would be pushed back.
Bloomberg Gadfly on how important Model 3 is to cash burn
While many reservation holders have been patient, the longer wait could lead to churn in Tesla's customer deposits, which rose to $854 million as of the end of last year. In early January, the company announced it was pushing back its goal to make 5,000 Model 3 sedans a week by another three months, to June.
"Bull story is 'people want these cars,' but delays, competition and reliability likely to jeopardize this assumption," analysts at the research firm Hedgeye wrote in a note. "The Tesla brand is increasingly vulnerable."
(
Updates weekly change in second paragraph.
)
Before it's here, it's on the Bloomberg Terminal.
LEARN MORE