Stock Plunge Hit to U.S. Spending Seen Minor: Michigan's Curtin
By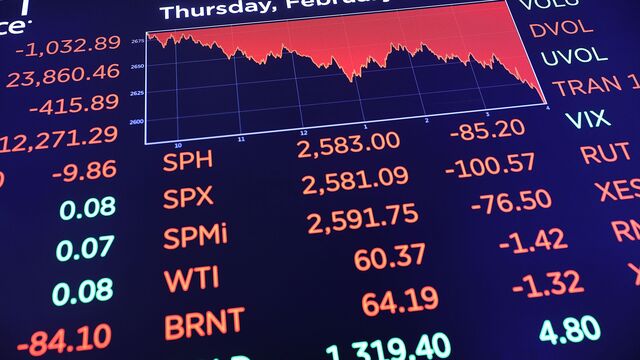 The recent volatility in the stock market may diminish Americans' views of the economy's prospects, though the impact on their spending will probably be small and temporary, according to a University of Michigan report.

It's likely that there will be a "very minor and temporary impact on personal consumption," because for those without large holdings of stocks, job and income prospects play a bigger role in spending decisions, Richard Curtin, director of the Michigan consumer sentiment survey, said in a statement.

Equity holdings are concentrated in the hands of upper- income and older households, he said. Unlike investors, consumers don't view a strong labor market as a precursor to higher inflation that requires much higher interest rates, Curtin said.

After the 1987 stock-market crash, the Michigan index of consumer sentiment dropped 10.1 points and personal consumption growth dipped to below 1 percent in the fourth quarter of that year. In the following three-month period, it surged by 7 percent.

"Consumers quickly concluded that whatever the reasons for the panic on Wall Street, job and income prospects were unchanged on Main Street," Curtin said. "It can be expected that the spending impact from the 2018 stock plunge will be similarly small."

Curtin said that while fiscal stimulus requires tighter monetary policy to keep the economy from overheating, "it would still be advisable" for the Federal Reserve to have "smaller and more gradual rate hikes" in order to preserve robust economic and job growth.

Before it's here, it's on the Bloomberg Terminal.
LEARN MORE