Rubio Says World Would Support Venezuela 'Removing a Dictator'
By
Senator evokes Chavismo icon Bolivar to attack Nicolas Maduro

Venezuela minister condemns perceived U.S. interference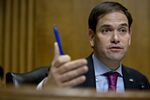 Marco Rubio took to Twitter on Friday morning to suggest that the world would support Venezuela's military if it decided to "restore democracy by removing a dictator" as the country's President Nicolas Maduro prepares for an April election some are already predicting to be rigged.
And if suggesting possible support for some kind of a coup wasn't enough to provoke Maduro, Rubio followed with a series of tweets in Spanish quoting Simon Bolivar, the country's 19th century liberator frequently evoked by the Venezuelan leader and for whom the late president Hugo Chavez named his socialist revolution.
"Nothing is as dangerous as letting the same person stay in power for a long time," Rubio quoted Bolivar as saying. "It's always noble to conspire against tyranny."

The tweets come just days after Secretary of State Rex Tillerson said that wider oil sanctions against the South American country's oil industry could be closer. In the past, the Florida senator's tweets have presaged action by U.S. President Donald Trump.
As Rubio was tweeting, Venezuela's foreign minister Jorge Arreaza published a statement on his account that condemned what he said was U.S. interference in its internal affairs in a "clear violation of international law."
Before it's here, it's on the Bloomberg Terminal.
LEARN MORE