Rand Paul Stirs Senate Anger Over Protest That Led to Shutdown
By
Republican colleagues fume at Paul's move to force shutdown

'He wanted attention and he got attention,' Inhofe says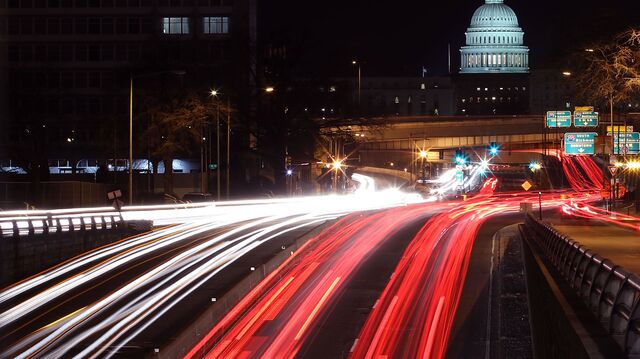 Senator Rand Paul forced a temporary government shutdown on Friday to lecture his GOP colleagues about fiscal responsibility, but the lesson they took away was probably not the one the Kentucky Republican intended.
"He wanted attention and he got attention. That's it," said Senator James Inhofe, a Republican from Oklahoma.

Paul used his clout as a senator to deny the unanimous consent needed for a speedy vote in order to protest $300 billion in deficit-financed spending in a two-year bipartisan budget agreement. So rather than take a quick vote Thursday afternoon, senators were left watching the clock tick past midnight -- the deadline for Congress to extend government funding.
Once the time on Paul's objection ran out, and after the government technically was shut down, senators strolled back into the chamber at 1 a.m., many of them dressed casually and some looking exhausted. By 2 a.m. they had voted on the budget bill. It easily passed 71 to 28.
"I wonder about the endgame of people who keep us here till 1 o'clock and achieve nothing," said Senator Richard Shelby, an Alabama Republican.
Senate Finance Chairman and Utah Republican Orrin Hatch said he had "a rough time" finding meaning in Paul's protest.
Democrats, who in other circumstances might have embraced Paul's message that Republicans were being hypocrites, were equally chagrined.
"Waste of time," said Senator Brian Schatz of Hawaii.
"To me, it looked like he was clueless," said Missouri Senator Claire McCaskill. "I didn't see any purpose."
Paul strategist Doug Stafford said the senator merely wanted a vote on an amendment to preserve existing spending levels and delayed the vote because his request was denied.
"This could have all been avoided hours ago if the Senate ran like everyone there had rights and a voice. He wanted a debate and a vote on something important," Stafford said. "That's apparently so outrageous that the Senate leadership would rather go past midnight than allow a senator his voice and a vote."
Republican Senator John Kennedy of Louisiana, in office a little more than a year, defended Paul, saying the issue of adding to the deficit is an important one that will need to be addressed.
"I actually thought tonight was one of our better nights. Democracy is messy," Kennedy said. "This was some of the best debate I've heard."
Before it's here, it's on the Bloomberg Terminal.
LEARN MORE