Kuroda Is Reported to Get Second Term as Bank of Japan Chief
By and
He would be first governor to serve two terms since 1954

Big challenges lie ahead as pressure for policy exit grows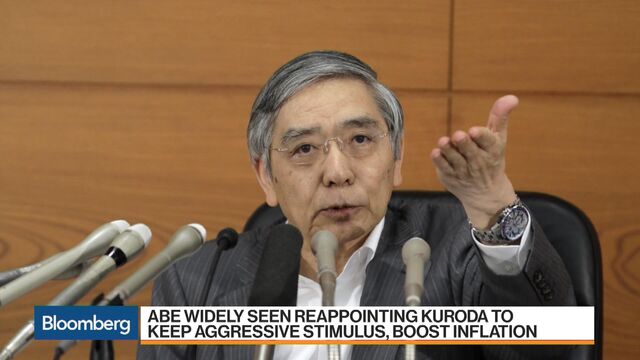 Prime Minister Shinzo Abe is set to nominate Haruhiko Kuroda to lead the Bank of Japan for another five years, according to reports from Kyodo News and Nikkei.
His reappointment beyond his current term ending April 8 has been widely expected by economists, according to a Bloomberg survey in January. Motosada Matano, a spokesman for the prime minister's office, declined to comment.
Kyodo's report late Friday night in Tokyo didn't say where it got the information. Nikkei followed soon after with a story that cited "several government sources," without being more specific.
The selection of Kuroda, 73, for another term would indicate that Abe wants to continue the monetary stimulus program that has weakened the yen, boosted exporters and fueled rising corporate earnings. While Japan's consumer prices started rising during Kuroda's tenure, inflation is far from the central bank's 2 percent goal and the government hasn't yet declared victory over deflation.
Kuroda would provide some international stability as 2018 proves a year of transition atop the world's central banks. Jerome Powell this week succeeded Janet Yellen at the helm of the Federal Reserve, while People's Bank of China Governor Zhou Xiaochuan may step down soon.
'Sense of Relief'
"This will give a sense of relief to volatile markets," said Takeshi Minami, chief economist at Norinchukin Research Institute. "This will send a message that the BOJ will keep up its ultra-loose monetary easing while the U.S. raises the pace of interest rate hikes. It will stabilize the markets to some degree." Minami noted that Abe had recently said in parliament that Kuroda has been doing a good job.
The yen, which has depreciated almost 10 percent since Kuroda took the helm, was little changed at 108.78 versus the dollar at 10:41 a.m. New York time.
Nearly five years of unprecedented stimulus has brought inflation to only about half the level he first pledged to hit in about two years. Yet concerns are growing about the sustainability of the BOJ's stimulus and how it will manage an eventual policy exit. The central bank owns about 40 percent of outstanding Japanese government bonds, and its balance sheet has swollen to nearly the size of the nation's 549 trillion yen ($5 trillion) economy.
BOJ Watchers Don't See Policy Change Soon
What our economist says ...
An immediate concern for Prime Minister Shinzo Abe is likely global market stress and a stronger yen, which threatens to derail Japan's growth and reflation. The reappointment of Kuroda -- a safe pair of hands and leading voice for reflation -- is meant to address these challenges. 
Yuki Masujima, Bloomberg Economics.
Click here to read his full JAPAN REACT
Whoever is governor during the next five-year term will have a "job from hell," and any attempt to exit the monetary easing program will trigger a Greece-like debt crisis, Takeshi Fujimaki, a commercial banker-turned-lawmaker with the opposition Japan Innovation Party, said in December.
"This is the calm before the battle," said Fujimaki, who once served briefly as an adviser to George Soros.
Around half of 43 economists forecast tightening in 2018 and another half sees it next year or later, while a couple predict further easing, according to the Bloomberg survey in January.
Nominated for his first time by Abe in early 2013, Kuroda vowed to help Japan end deflation after more than a decade of malaise by implementing bold monetary easing. He shocked financial markets with his aggressive asset buying starting in April 2013. Since then, the size of BOJ's balance sheet as a share of gross domestic product has grown far larger than that of the Federal Reserve and the European Central Bank.

In addition to its enormous holdings of JGBs, the BOJ owns a vast amount of the nation's exchange-traded funds and has become a dominant buyer of shares in real-estate investment trust, commercial paper and corporate bonds.
Kuroda again demonstrated his boldness and innovative thinking by introducing a negative interest rate on some bank reserves in early 2016. In September that year, with a goal of policy sustainability, the BOJ shifted to its current yield curve control framework, changing its policy objective to controlling interest rates rather than the volume of asset buying. Buying of JGBs has slowed a bit from its stated target.
Kuroda's policies helped breathe life into Japan's economy, which on his watch has achieved the longest expansion since the mid-1990s. Corporate profits are at record highs and the labor market is the tightest in decades, yet wage gains are modest. The key inflation gauge, which excludes fresh food, remains below 1 percent.
"There is still a long way to go to achieve 2 percent inflation target," Kuroda said on Jan. 31. "It is BOJ's mandate to hit the target as soon as possible by persistently continuing current monetary stimulus."
The appointment would be subject to approval by parliament, where Abe's ruling coalition holds a strong majority.
— With assistance by Andy Sharp, Emi Nobuhiro, and Masahiro Hidaka
Before it's here, it's on the Bloomberg Terminal.
LEARN MORE